---
Who is Homeschool Iowa? We're glad you asked!
Homeschool Iowa is a nonprofit organization dedicated to equipping and encouraging homeschooling families in Iowa, and to promoting home education and protecting homeschool freedom.
This is made possible through the efforts of an amazing team of volunteers and staff. You can see a sampling of team members in the header image above.
Who is Homeschool Iowa,
this team of dedicated volunteers?
Let's find out!
We asked our leaders to answer two questions and to share a short bio. They also told us about their homeschooling experience or the talents they bring to the Homeschool Iowa Team.
As you meet our leaders, you will notice a common thread. They are all regular people with jobs and kids. Homeschooling is a part of their life, but they each have many other experiences that have given them wisdom, kindness, and generosity.
Homeschool Iowa is blessed to be the fertile ground into which their talents are sown for this season.
---
The Homeschool Iowa Board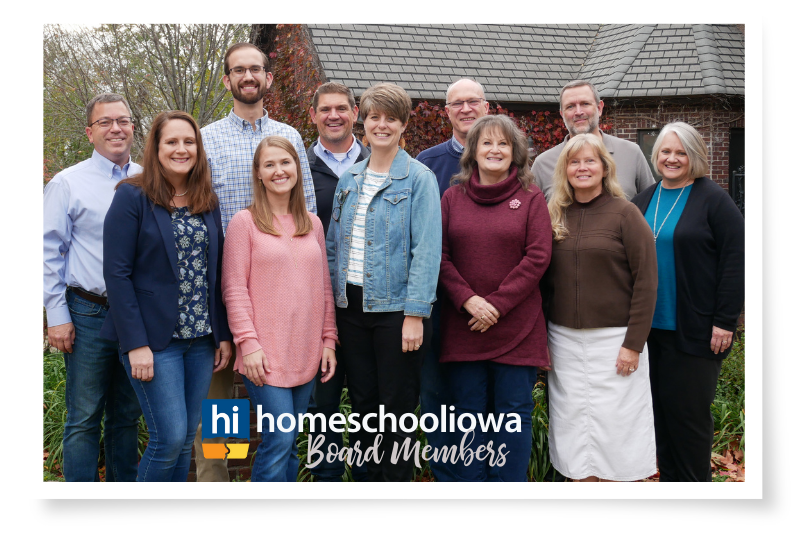 The Homeschool Iowa Board, left to right: George & Kim Blom, Joe & Elizabeth Bailey, Jeremy & Jodi Vos, Bob & Cathy Sorensen, Jill Oppman, and Aaron & Rhea Bender
---
Our Board is an active group of parents – and even a few former homeschoolers – who are passionate about ensuring that homeschooling remains a viable choice for parents for years to come.
---
---
Joe Bailey and his wife, Elizabeth, are second-generation homeschoolers serving on the Homeschool Iowa Board. 
Their family is a beautiful example of a pioneering spirit in energy and in willingness to be innovative to help Homeschool Iowa grow to reach new families. Joe shares more:
Elizabeth and I recently celebrated our ninth wedding anniversary, and we are homeschooling parents of six. 
I work as a senior weld engineer at Vermeer Corporation and serve as president of Homeschool Iowa, as an HSLDA board member, and as a deacon at my church. I'm passionate about fathers being involved in and leading their families as well.
As an engineer, I am also highly analytical and love solving problems and casting vision.
---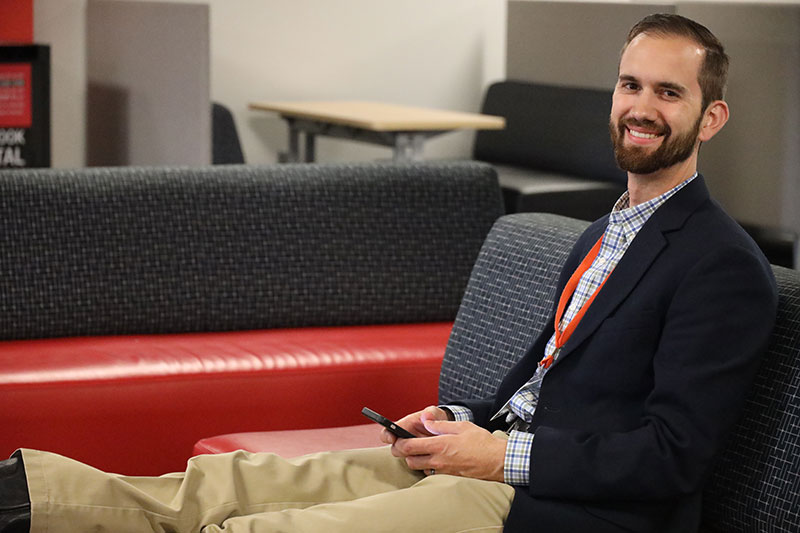 What is the greatest homeschooling challenge you have overcome or adapted to?
Joe: That would be finding what homeschool style best suits our family.
My wife and I are second-generation homeschoolers, but that doesn't mean we know it all or have it figured out!
---
What has been the most satisfying part of working with Homeschool Iowa and their team?
Joe: Ultimately, it has been seeing God work through us to equip and encourage homeschool families and to prosper our efforts to promote and protect our homeschool freedoms.
Also, I love seeing our Homeschool Iowa team members learn and grow in their roles!
---
Meet Joe's Wife, Elizabeth
---
Elizabeth Bailey also serves on the Homeschool Iowa board and in many capacities as an advocate for homeschooling families. Elizabeth shares this about herself:
I was homeschooled 3rd-12th and was involved in TeenPact, in 4-H, as a volunteer for Homeschool Iowa, and as an Iowa Capitol Page during high school. I loved being homeschooled.
After graduating high school, I earned a B.A. degree in Social Sciences from Thomas Edison University using the accelerated distance learning approach to college. Then I worked as a librarian, a short-order cook, an academic coach, and now, as a homemaker and homeschooling mom.
My passion is for civic involvement and strong commitment to preserve homeschooling freedoms for future generations.
---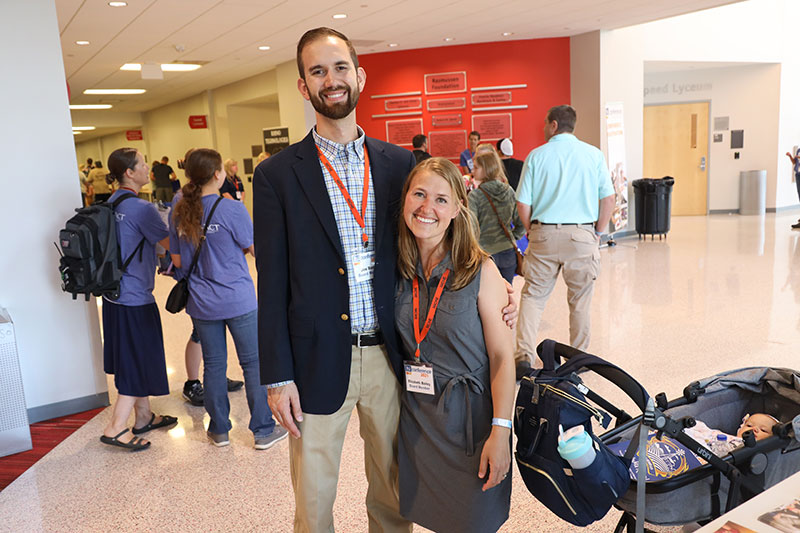 What is the greatest homeschooling challenge you have overcome or adapted to?
Elizabeth: Does constantly running out of bookshelves qualify as a homeschooling challenge? Bookshelves aside, my greatest challenge is the daily work that needs to be done at home as a homeschool teacher, wife, mom, and homemaker.
I've learned that knowing my priorities helps me choose what to spend my time on when things get overwhelming.
---
What has been the most satisfying part of working with Homeschool Iowa and their team?
Elizabeth: Seeing families grow in confidence as they continue in their homeschool journey!
---
Meet Our Newest Board Members
---
We're super excited to have two new couples on our Homeschool Iowa Board.
Aaron and Rhea Bender homeschooled their four children from kindergarten to 12th grade. Three are married; two are in college (grad student at the University of Utah, and the other a freshman at Wartburg College). They have one grandson, who is almost one year old, and another grandson will be born in late February. Rhea shares more:
As a homeschool family, we tended toward Charlotte Mason as our style of homeschooling, with lots of nature walks on and around our farm, science experiments on our kitchen table or outside, countless days and nights of reading out loud, playing games, and learning all things together. Our kids were very involved in our drama ministry at our local church and serving in Sunday School and worship team (technical side). Our family was very involved in our local homeschool support group, going to activities and field trips, attending co-op, and I served on the leadership team for many years.
Aaron and I have always had a heart for new homeschoolers, mentoring them and "showing them the ropes" as they start their homeschool journey. Aaron is very knowledgeable of the Iowa homeschool law, and I enjoy encouraging young moms, helping them see that they really can homeschool their own children. God equips each and every one of us! Homeschooling is one of the hardest and most rewarding jobs ever!
And here is some background from Aaron:
We attended our first Homeschool Iowa homeschool conference in 1998, after being invited by some friends. We had no idea what homeschooling was, but we left the conference fully convicted that we were going to homeschool our kids.
Being so intimately involved in our children's education has been a huge blessing to us as parents. I am passionate about homeschooling and enjoy encouraging others in their journey. Rhea and I have hosted Homeschool 101 and other homeschool-related events for a number of years now. I love being able to help and encourage others. For this reason, I am active in the Homeschool Iowa Facebook Discussion Group, though, at times, the business of work and life make it difficult to participate as much as I would like.
I pray that Iowa will long continue to be a homeschool friendly state offering options from complete independence to varying levels of participation in the public school system.
Jeremy and Jodi Vos have been married for 27 years and have four children, two of college age and two still at home. They have homeschooled since 2012. Jeremy shares:
My professional experience is in business leadership, and I hope to use that broad experience in helping Homeschool Iowa continue to flourish.
Here are some comments from Jodi:
My favorite part of my job as a homeschooling mom is watching our kids discover new things and learning alongside them. This school year, I am enjoying teaching a high school history class through our local homeschool group. I'm excited to be a part of the Homeschool Iowa team!
---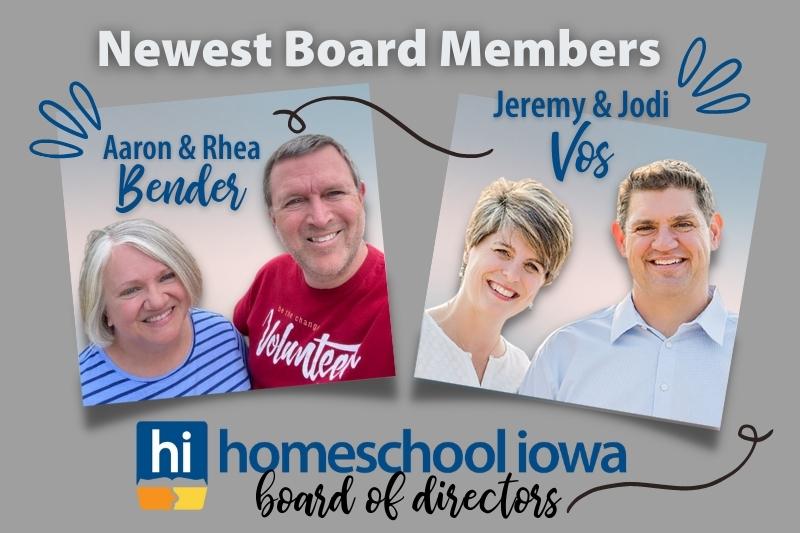 What is the greatest homeschooling challenge you have overcome or adapted to?
Aaron: The greatest homeschooling challenge was helping our kids explore their post-secondary hopes and dreams and then individualizing their high school experience. We have four kids who have taken very different paths. While challenging, it was fun to see them explore and grow.
Rhea: It was quite a challenge to help guide and direct each of our children in a possible career path, as they are all vastly different in interests and abilities. That's the beauty of homeschooling! We were able to tailor each of their educations to their unique gifts and talents! God is so faithful and provided direction for us as their parents, and to our children as well. It's incredibly faith-building to look back on their experiences and see God's handiwork clearly on display.
Jeremy and Jodi: Making the switch to homeschooling was hard. We didn't start homeschooling until our oldest two kids were middle school age. The adjustment to a new way of doing school and life was challenging, but worthwhile!
---
What has been the most satisfying part of working with Homeschool Iowa and their team?
Aaron: The most satisfying part of working with Homeschool Iowa and their team is getting to know the people. We started our Homeschool Iowa experience when my wife become a Regional Rep in Region 2. Through that experience, we started to meet and learn other volunteers and the staff. We then helped with a support group leader retreat and the annual homeschool conference. Each step of the way, we were able to form more and deeper relationships with others who also have a passion for homeschooling.
Rhea: It is so satisfying and comforting to work with fellow homeschoolers who have the same passion for following Jesus and educating our children at home. Sometimes, as homeschoolers, we can feel a bit isolated. Homeschool Iowa is a fantastic organization that strives to bring all of us Iowa homeschoolers together. What a blessing this community is!
Jeremy and Jodi: Finding like-minded folks who love homeschooling and, more importantly, have a deep desire to help others! They are so encouraging and uplifting!
---
Meet Our Vice President, George
---
Our Homeschool Iowa Vice President is George Blom. When we asked him to share the experience and talents that he brings to the HI Team, George modestly shared:
My best claim to fame is being married to Kim Blom, the Homeschool Iowa Conference Coordinator, who loves and serves her family and the homeschool community well.
---
What is the greatest homeschooling challenge you have overcome or adapted to?
George: We have four wonderful children. I think our greatest challenge was understanding their different learning styles, their unique character strengths, and where we needed to focus to reach their hearts.
It required significant prayer and learning from failures. God sustained us. He showed up when we were falling short, and my wife is a superhero.
---
What has been the most satisfying part of working with Homeschool Iowa and their team?
George: The encouragement we got from the Homeschool Iowa Conference.
It specifically reminded us why we homeschooled. It gave us the conviction, resources, and encouragement to continue to home educate our family.
---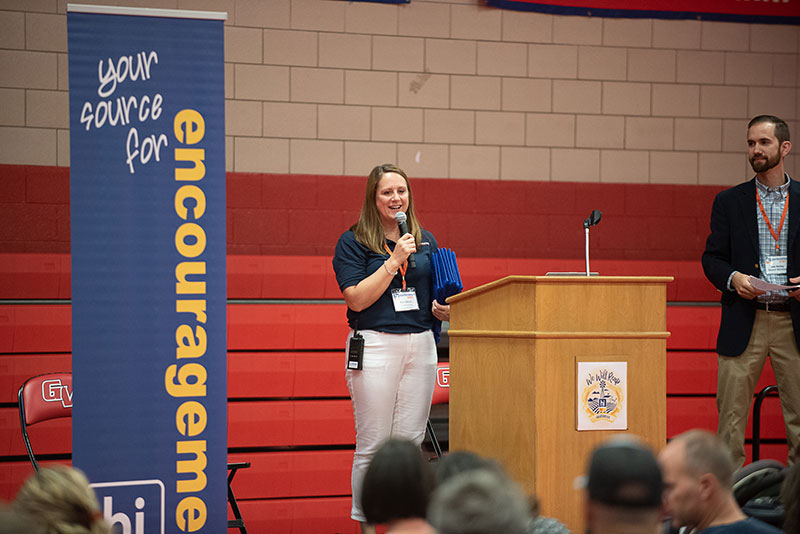 Homeschool Iowa Event Coordinators
---
Who is Homeschool Iowa?
The answer includes the coordinators for our annual events.
Kim Blom and Tamara Pool are the coordinators for our Homeschool Iowa Conference. They are joined by many others, including Exhibit Hall Coordinator, Kari Hancock; Hospitality Coordinator, Dorcas Jarrard; Kids Trek Coordinators Scott & Hannah Kratzer; Volunteer Coordinators, Jill Oppman & Sarah Roth; HI Booth Coordinators, Dawn & Rick Cowman; and Used Curriculum Sale Coordinator, Molly Benson. Last year, Jessica Danilson helped as a team member coordinating special meal events at the Conference. 
Our annual Graduation is managed by Coordinator Janis Johnson, and wouldn't be the same without the steady help from John & Diane Desaulniers and their adult families members, including Dan & Erin Watkins.
Homeschool Iowa Capitol Day is coordinated by Homeschool Iowa Board Member, Jill Oppman.
---
Meet Our Capitol Day Coordinator, Jill
---
Not only does Jill Oppman coordinate our Capitol Day event and oversee our many volunteers for the annual Homeschool Iowa Conference, but she serves on the board and helps local homeschoolers as a Regional Representative all year long. 
Jill offers this biographic background to help you get to know her better:
My husband and I have 4 adult children who were all homeschooled all the way through.  We are also proud grandparents to the cutest little boys!
When our oldest child was nearing kindergarten age, a seasoned homeschool couple approached us and asked if we had ever considered homeschooling. We had never even heard of homeschooling!  With direction from this veteran couple, we jumped in and never looked back! 
One of the greatest blessings of homeschooling was the closeness it brought to our family.  Another blessing was how homeschooling afforded all our children to pursue and expound on their individual God-given talents, gifts, and desires.  
Because homeschooling was such a blessing to our family, I enjoy sharing my homeschool experiences with others as a way to encourage and help them navigate their own journey.
---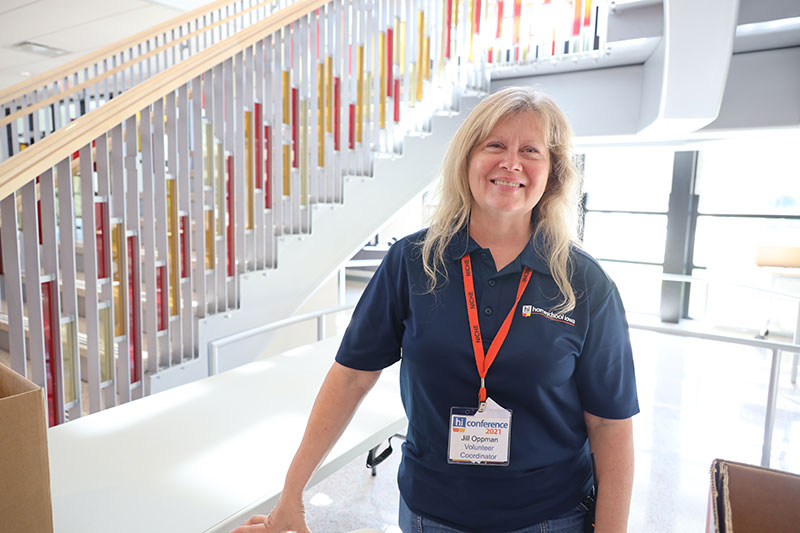 What is the greatest homeschooling challenge you have overcome or adapted to?
Jill: Trusting the Lord over the system.  The tendency is to teach how we were taught. (It's what we know.) Learning to trust God in our homeschooling journey, and put aside the model I was comfortable with, turned out to be the BEST decision we made!
---
What has been the most satisfying part of working with Homeschool Iowa and their team?
Jill: Working with a GREAT group of people who love the Lord and use that to further Homeschool Iowa's efforts to equip, encourage, promote, and protect homeschoolers and homeschooling across the state.
We LOVE Jesus and we love homeschooling!
---
Homeschool Iowa Regional Representatives
---
Who is Homeschool Iowa?
Our reach to serve homeschooling families across the state is carried out by our incredible team of Regional Representatives.
These experienced homeschooling moms serve in eighteen regions in Iowa answering questions, providing resources, hosting Homeschooling 101 events, and encouraging families in their homeschool journeys.
---
---
Meet Our Regional Rep Coordinator, Cathy
---
Cathy Sorensen serves on our Board with her husband, Bob. She also coordinates our Regional Representatives and Special Needs Advisors programs.
Because she is a great connector, she is always on the lookout for people with energy, wisdom, and a capacity to serve. If you know Cathy, you are probably already volunteering in some capacity in the Homeschooling community.
A little from Cathy to help you know her better:
 ​​I am an RN. When the Lord led me home and to homeschooling, it was transforming in about every area of our lives and mindset. 
We homeschooled our children K-12. They are now Iowa State University graduates who have fulfilling jobs and are married, beginning families of their own.  Both are delightful life-learners and there will be another generation of homeschoolers coming soon!
---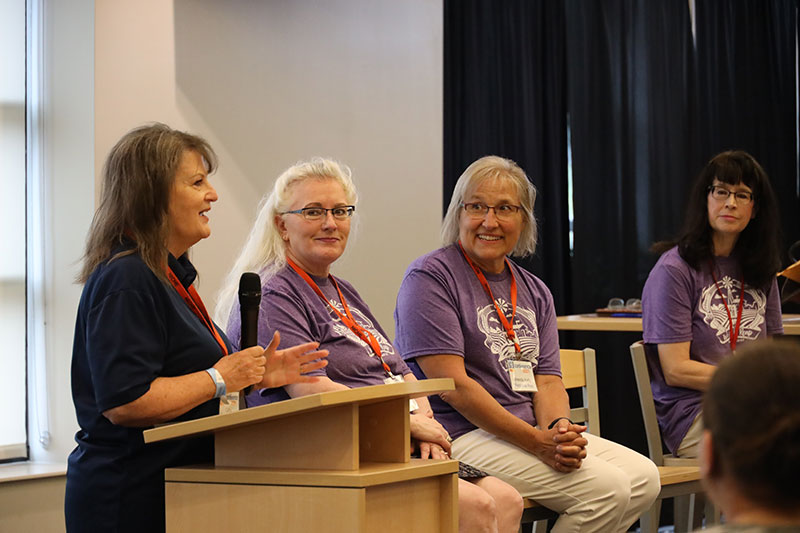 What is the greatest homeschooling challenge you have overcome or adapted to?
Cathy: My greatest challenge was letting go of a "schoolish" mindset and realizing that fun, steady and long-lasting learning could take place with games, hands-on activities and projects, and in reading loads of living books!
---
What has been the most satisfying part of working with Homeschool Iowa and their team?
Cathy: A very satisfying part of being part of the bigger Homeschool Iowa team is the freedom and encouragement to use my gifts, ideas, and strengths in various projects and groups and to form friendships with more of "my tribe!"
---
Meet Two of Our Reps, Teresa & Angie
---
Two of our Regional Representatives offered to give you a peek into their lives and motivations.
Teresa Ott is the Homeschool Iowa Regional Representative for Region 8.
She and her husband, Jim, started their adventure when their oldest was beginning 7th grade. Teresa shares more:
I've learned the Truth that home education is a lifestyle of learning, that the relationship with my children is much more important than the academics, and that if I encourage my children to figure things out on their own (as opposed to doing it the "right" way), they will be well on the way to finding happiness, aka, self-regulating.  
Angie Askelsen is the Regional Representative for Region 15.
Wife and mom to four daughters, she began homeschooling 15 years ago when the oldest was in 4th grade and the youngest was 2 years old. During those early years, she and some fellow homeschoolers felt God's calling to start a homeschool group for their area. With only one left at home now, she has started an online service business helping business owners organize their operations. 
---
What is the greatest homeschooling challenge you have overcome or adapted to?
Teresa: Finding the confidence to trust that I can use my own brain.
Angie: Learning how to balance the homeschooling needs and activities of four children while also maintaining a household.
---
What has been the most satisfying part of working with Homeschool Iowa and their team?
Teresa: Meeting the other dedicated Regional Reps and knowing that we are encouraging people to trust themselves to provide for their own children.
Angie: I enjoy being able to guide the upcoming generation of homeschool families in their journey. It has been such a blessing in our family, and so I want to encourage and support other families who choose to homeschool.
---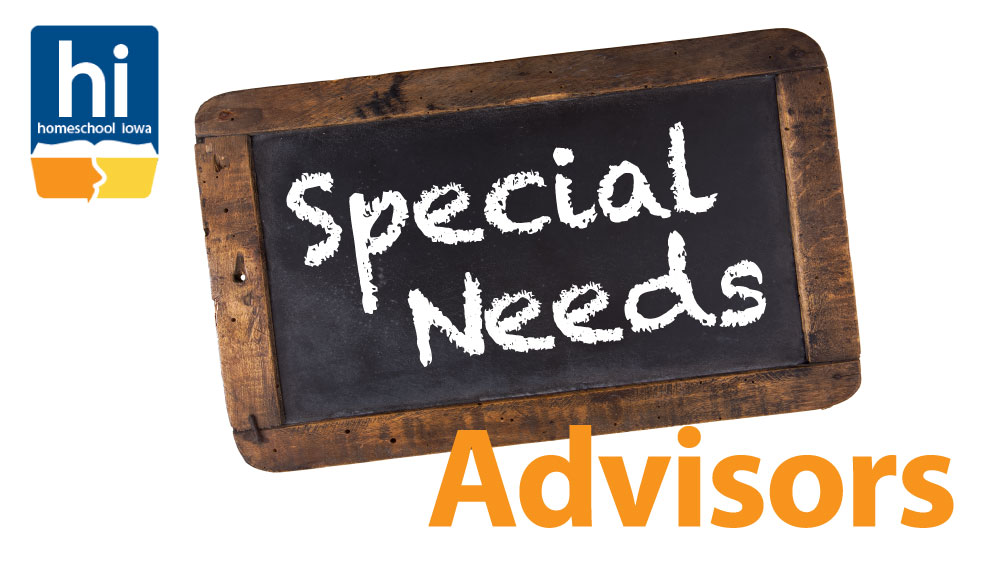 Meet Our Special Needs Advisors
---
Our Homeschool Iowa members enjoy the blessing of access to the support and counsel of our Special Needs Advisors.
Erin Peterman and Kim Zuber are seasoned homeschooling moms with experience and knowledge in home educating children with special learning needs.
---
---
Who is Homeschool Iowa?
While we've always had a volunteer legislative liaison, thanks to generous donations, Homeschool Iowa has hired a lobbyist to monitor legislation, communicate with lawmakers, and advocate for homeschool protections and freedom in our state.
---
Meet Our Homeschool Iowa Lobbyist, Bill
---
Bill Gustoff serves as our Homeschool Iowa Lobbyist. He shares his heartening story of openness and growth here:
As a young man I was an unbeliever and a homeschool skeptic. Then the Lord saved me, and I married Sara Morris, a Christian homeschooled girl, in 1991. After getting married, the Lord led me back to college and ultimately to law school.
We always knew we would homeschool our own children, and we have done so all the way through (so far) with our three sons and one daughter. When we decided to leave a full-time ministry job in Dubuque in 2006, we settled on Des Moines for a home community, in part, to engage in the political sphere as a way to engage for the Gospel and to pursue policies that can have a larger, more eternal impact. We did not know that would mean engaging with Homeschool Iowa to help with legislative and advocacy efforts.
Since I was saved while on staff during a 1990 U.S. Senate campaign, and since I met Sara and her family (among many other homeschool families) on that same campaign, it seemed a natural fit to use my political background and legal training to help Iowa homeschoolers and to advocate for parental rights. Thus, I eventually became the corporate legal counsel and legislative liaison for Homeschool Iowa. The Lord has used the connections He made in my life with people over several decades to impact policy for better homeschool laws in the state. 
Sara and I both marvel to see how our gracious God bestows spiritual gifts and other abilities to us and then uses them in our lives if we are willing to get out of His way, serve as we are called, and not do it for the glory of man. We have been blessed over and over by Homeschool Iowa, Home School Legal Defense Association, local support groups, and the many people involved in the homeschool community. We pray we can be used to return even a small portion of that blessing to others.
---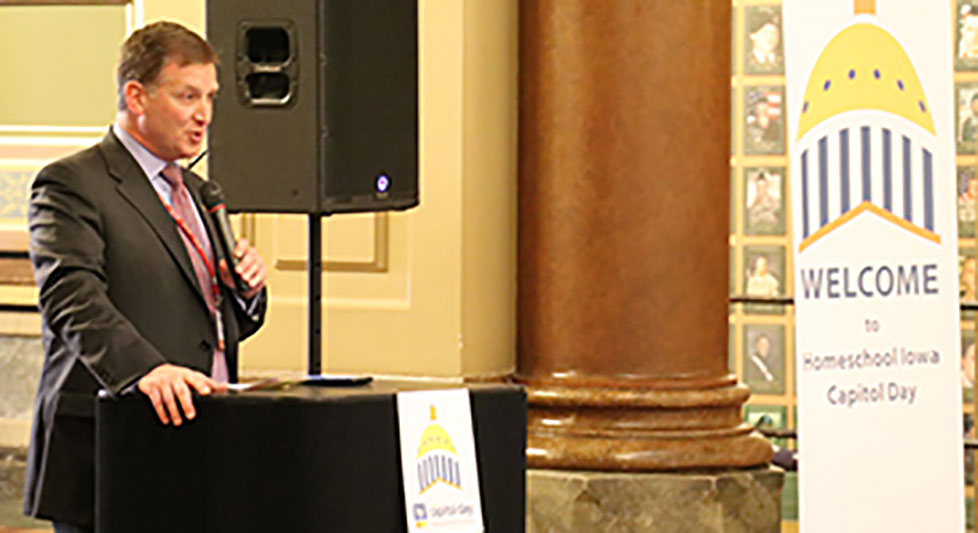 What is the greatest homeschooling challenge you have overcome or adapted to?
Bill: Balancing demands of family, work, and ministry opportunities. We want our children to see serving others and having an eye toward eternal impact as an important part of our home discipleship and ultimately of our lives, but it is easy to let things get out of balance.
A second challenge (often largely resulting from the first) is trying to pattern godly attitudes and reactions for our children when confronting challenges. Our reactions too often do not automatically reflect Christ, and we don't want that for our family.
---
What has been the most satisfying part of working with Homeschool Iowa and their team?
Bill: Being able to help increase the freedom of homeschool parents to teach and disciple their children without government intrusion. It's been exciting to watch the growth of homeschooling in our state.
---
---
Who is Homeschool Iowa?
Much of the behind-the-scenes, day-to-day work of Homeschool Iowa is done by our hard-working staff.
Correspondence must be answered, registrations must be monitored, communications must be created and sent, financial matters must be attended to, graphics must be designed, social media accounts must be managed, and much more!
---
Meet Staff Members, Julie & Joe
---
Julie Naberhaus, our Administrative Assistant, handles our communications, constructs and manages our membership and event registrations, designs and updates our website, creates and sends our e-blasts and e-newsletters, assists with social media, and many other similar tasks.
She has been married to her farming husband, Garry, for over 40 years and a homeschooling mom of nine children for over 30 years. She's now a grandma to eleven. Julie and Garry were founding Homeschool Iowa (NICHE) board members back in 1992.
Joe Desaulniers serves as our Advertising Coordinator. He was homeschooled for most of his K-12 education, and has been volunteering and working for Homeschool Iowa since his early teens, when his parents started their service on the Board. 
He's enjoyed managing and growing relationships with the many advertisers who have come alongside to support our mission, as well as, of course, forming good friendships with the Homeschool Iowa Team through the years. 
When he's not doing HI work, he can usually be found at his full-time job, serving as part of the management team at a locally owned grocery store/restaurant in Bondurant; serving in his church in Ankeny; or pursuing interests in music, reading, theology, politics, or athletics with family members or friends.
(You'll note in the photo below that Joe can effectively multi-task!)
---
What is the greatest homeschooling challenge you have overcome or adapted to?
Julie: I suppose one of the greatest challenges – or at least one of the first – would have been starting homeschooling back in the 1980s, when the State of Iowa did not recognize home instruction by parents. No other family had homeschooled in our school district before we started. It was all new territory!
We were honored and blessed at that time to work alongside so many dedicated homeschooling parents in efforts to enact the first homeschool law in Iowa.
---
What has been the most satisfying part of working with Homeschool Iowa and their team?
Joe: For me, the best part of working with the HI Team has been the environment of grace, joy, and wisdom that forms the foundation of our service to homeschooling families and, ultimately, to God.
There's a real love for what we're doing, why we're doing it, and for whom we're doing it.
---
Meet More Homeschool Iowa Staff
There are so many others who serve in support positions.
Amber Smith is our Marketing Manager. You can read an inspiring account about her on our blog.
Other staff volunteers include our Treasurer, Ivette Shover; Facebook Discussion Group Moderator, Bridget Dirks; her assistant, Amy Stout; our amazing proofreader, Sarah Dittmer; our graphics design volunteers, Jamie Nosalek and Emily Forsyth; our Advocacy Team members, Laura Carlson and Shanda Burke; and our Fundraising Coordinator, Kevin Hendress.
And while we're mentioning
Kevin Hendress,
you might be inspired to learn
that he stepped into his fundraising role
in a simple, but amazing, way.
He was attending a past Capitol Day session, where a panelist noted that Homeschool Iowa would always lag in effectiveness on the legislative front until it has a paid lobbyist on staff. Kevin left the session, sought out Homeschool Iowa leaders, and volunteered to lead fundraising efforts toward this goal.
The rest is history. In a large part due to Kevin's efforts, our fundraising has improved immensely, and Homeschool Iowa now has a paid lobbyist on staff!
How about you? Would you, like Kevin, like to take a simple step to serve as a Homeschool Iowa volunteer? Email us! We'll find a place on the HI Team for you!
---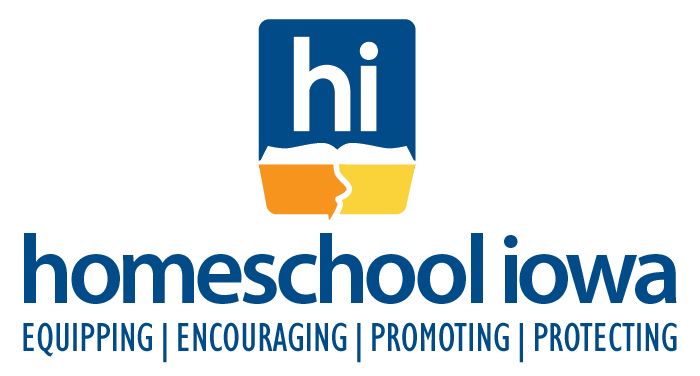 ---
---
The HI Team members who serve you at Homeschool Iowa are homeschooling, like you. They have learned through trial and error to create homeschools that fit their families. These homeschool leaders are actively protecting the freedom to homeschool, empowering families with helpful resources, and encouraging parents every day.
These are the faces that have answered the call to stand up for homeschool freedom and to serve other home educators across the state. Their wealth of collective knowledge and their willingness to listen, grow, and innovate helps you find the best homeschool experience for your family.
Who is Homeschool Iowa? We are Homeschool Iowa – and so are you!
---
Are you inspired by this dedicated team serving
Iowa homeschooling families like yours?
We urge you to partner with us!

BECOME A MEMBER 
TO SUPPORT OUR TEAM
& RECEIVE BENEFITS
JOIN NOW!