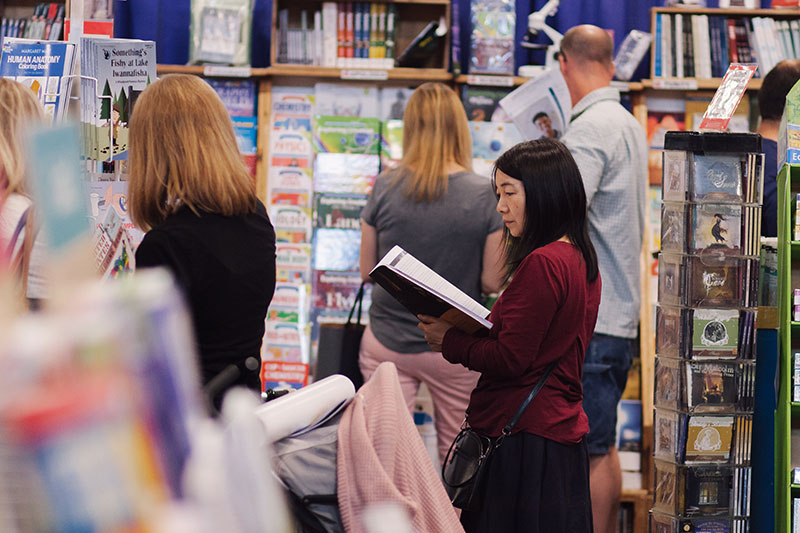 Our exhibit hall is an integral part of our conference! With over 17,000 square feet of exhibit hall space, you'll find an extensive display of some of the finest homeschool resources available.
Enjoy a shopping experience unlike any other in the state of Iowa at the Homeschool Iowa Conference. Nowhere else in the state will you be able to shop and compare curriculum and resources in person from this many exhibitors and publishers all in one place!
Our exhibitors have a extensive knowledge and expertise and are happy to answer your questions and assist you. Be sure to stop and chat with them and thank them for investing the time and resources to come the Homeschool Iowa Conference!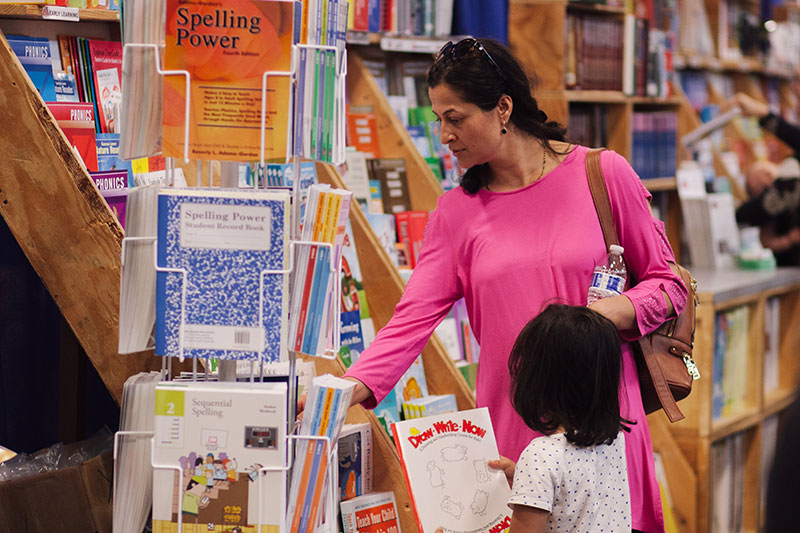 EXHIBIT ADVERTISE SPONSOR
The Homeschool Iowa Conference encourages, equips, and inspires parents as they teach their children at home.
If you offer products or services for home educating families, we invite you to apply for exhibit space at our conference.

---
CLICK HERE FOR EXHIBITOR, ADVERTISER, & SPONSOR INFO
---
Average Total Attendance
Over Past 7 Years: 1300
Average Registrations
(Households): 600
---
EXHIBITOR / ADVERTISER / SPONSOR REGISTRATION
---
ASK TO BE ADDED TO OUR EXHIBITOR CONTACT LIST
2022 Conference Exhibitors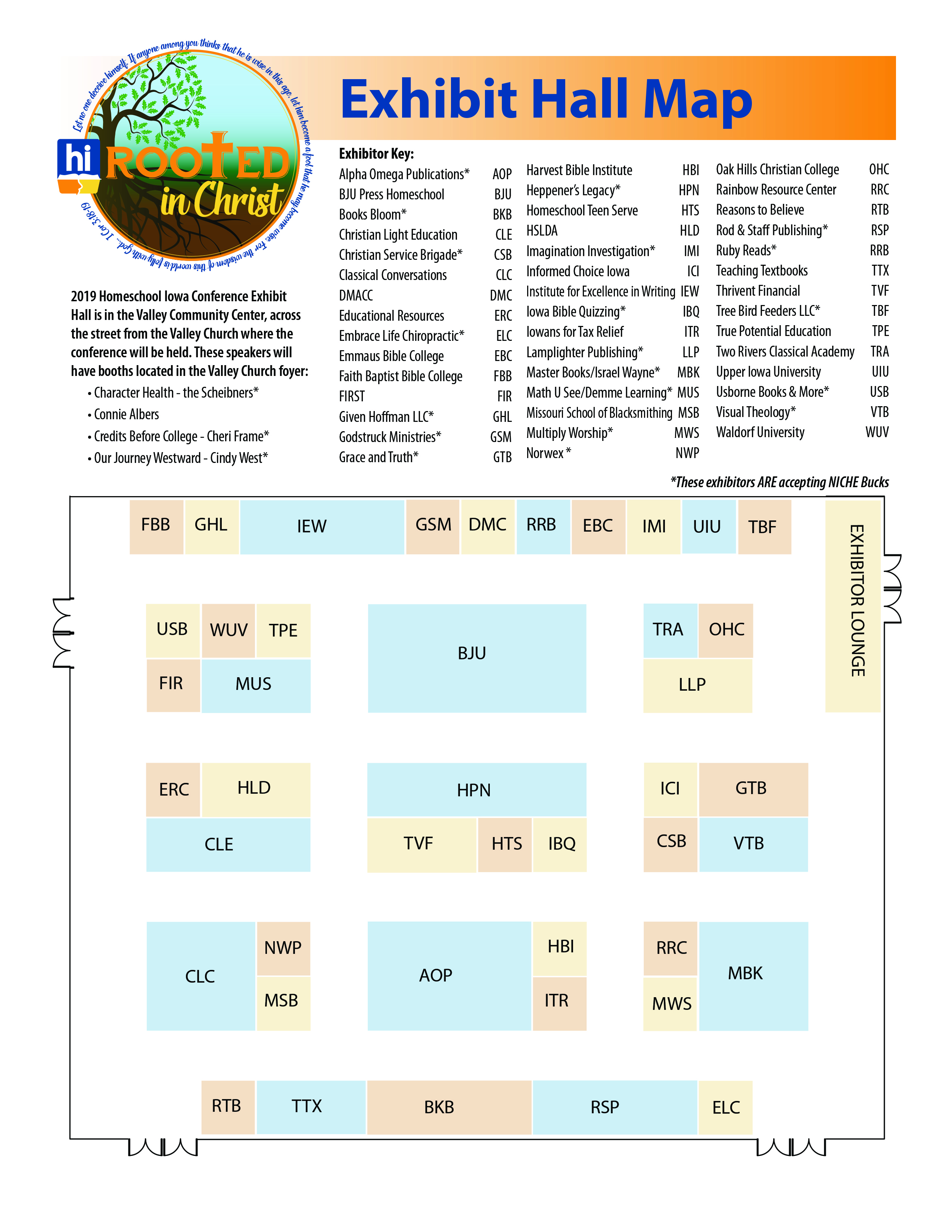 ---
2019
Conference Exhibit Hall
---
---
Check out our exhibit hall map for a peek at what awaits your shopping pleasures!
Click on the map to download a copy.
Exhibits for our speakers Steve & Megan Scheibner, Cindy West, Connie Albers, and Cheri Frame will be located in the church foyer area.
Below, you'll find a list of our 2019 Conference exhibitors.
Click the exhibitor company names to view their websites.
---
Science-fiction and action-adventure novels that incorporate apologetics arguments into the plots.
---
---
---
---
---
---
---
---
---
---
---
---
Decoding Dyslexia Iowa is a non-profit group of parents and educators advocating for Iowa kids with dyslexia.
---
---
---
---
---
---
---
---
---
---
---
---
Providing individual sessions for speech, language, reading, math, dyslexia, and writing. Also group academic programs to build reading and math skills. Additional opportunities for parents to meet twice a month with an online communities to acquire valuable resources and empowering connections.
---
---
---
First Frets offers online guitar and ukulele lessons. Lock-in 50% off their Individual and Family plans when you sign up at their booth!
---
---
---
Their name reflects what they do: Gather people and Grow things. Gather families, gather friends, gather communities in order to grow food. Grow skills, grow relationships, and grow faith. Their display at our conference will offer books, resources, and other educational materials supporting family-centered economies.
---
Goldfish Swim School Urbandale provides indoor, year-round swim instruction to children ages 4 months to 12 years-old in a family-friendly setting with highly trained instructors, small class sizes (max 4:1 student to teacher ratio), shiver-free 90-degree pools, and a state-of-the-art water purification system. Families with kids of different ages and skill levels can conveniently have all of their swimmers in the pool during the same half hour time slot and schedule makeup classes when necessary. Goldfish offers perpetual lessons and families can enroll at any time. In addition to swim lessons, Goldfish Swim School offers weekly family swims (for both members and non-members) and party packages.
---
---
---
---
---
---
---
Howerdon Creek Farms offers ethically and humanely raised beef, pork, chicken, and goat meat. They also invite homeschooling families to tour their farm.
---
---
---
As a part of Iowa State University Extension and Outreach, 4-H empowers youth to reach their full potential through youth-adult partnerships and research-based experiences.
---
Iowa Right to Life provides sanctity of life information for homeschooling parents to use. They also give away free 12-week-old gestational models which they hope inspire the younger generation to value and love life.
---
---
---
---
---
---
---
---
---
---
Shawn Lamb is a Christian author of fiction and non-fiction books for ages 8 through adult. She also offers non-fiction materials, including study guides suitable for homeschool literature curriculum.
---
---
---
---
Truth and Life Ministry
---
---
---
---
Join Us at the 2021 Homeschool Iowa Conference