---
Supporting your homeschool journey is what Homeschool Iowa does best! They're dedicated to help you on every step of your homeschooling journey.
I've certainly experienced it in my own life!
In every step of my own homeschool journey, Homeschool Iowa's resources, publications, events, and helpful teams have offered guidance and support.
As a homeschooled student in my teenage years, as a homeschooling mother for almost three decades, and as a new Homeschool Iowa team member, I realize I've been living out the Homeschool Iowa philosophy.
---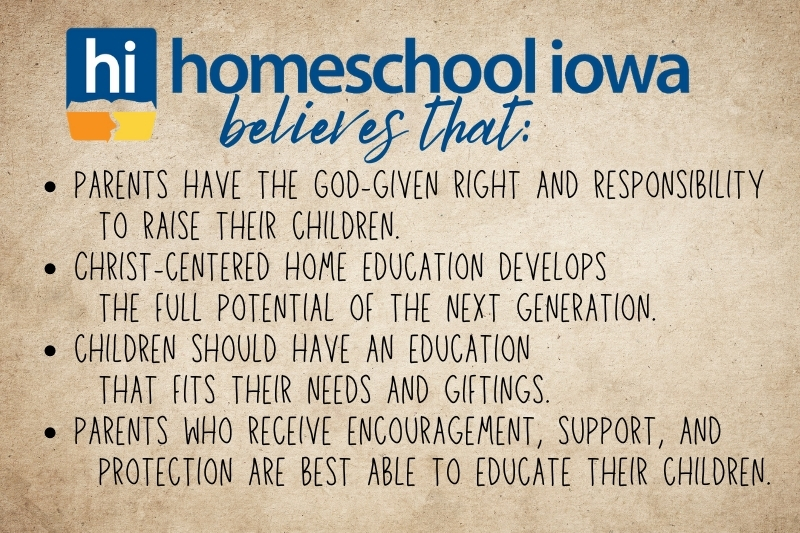 ---
Homeschool Iowa:
Homeschool Families Supporting One Another
---
Every day, Homeschool Iowa volunteers respond to requests for help. They answer questions, explain policies, and offer encouragement for challenging days. 
That support is what ultimately led my own family to homeschooling.
Homeschooling was not my life plan as a teenager.
When I speak in groups, I share that I was "involuntarily homeschooled" at the end of my sophomore year.
Homeschooling was the last hope my mother had for salvaging my education and getting me away from some terrible life choices.
---
My Homeschool Iowa Story:
Homeschooling Saved My Life!
---
Now, as a homeschool advocate, I have a special place in my heart for "Hail Mary" homeschoolers like my mother.
They are the parents who have done all that the school has asked of them and, yet, their children are still failing.
Homeschool Iowa volunteers hear from parents every week who realize they are in danger of losing their children down the "education rabbit hole."
They reach out to us, desperate for help getting started, because homeschooling is their last hope.
Often, they are the ones, like my mother, sharing tearful, late-night prayer requests with their local support groups.
Today,
I respond to requests for help
because, years ago,
there were women willing to provide support for me!
They prayed earnestly and often,
and God honored their faithfulness. 
In an effort to follow their examples, I've joined the Homeschool Iowa volunteer team.
It's an amazing group of homeschooling parents and second-generation adults with an understanding of the challenges and rewards of homeschooling.
Our team has some hard knees and tender hearts. I know because I caused some of them.
---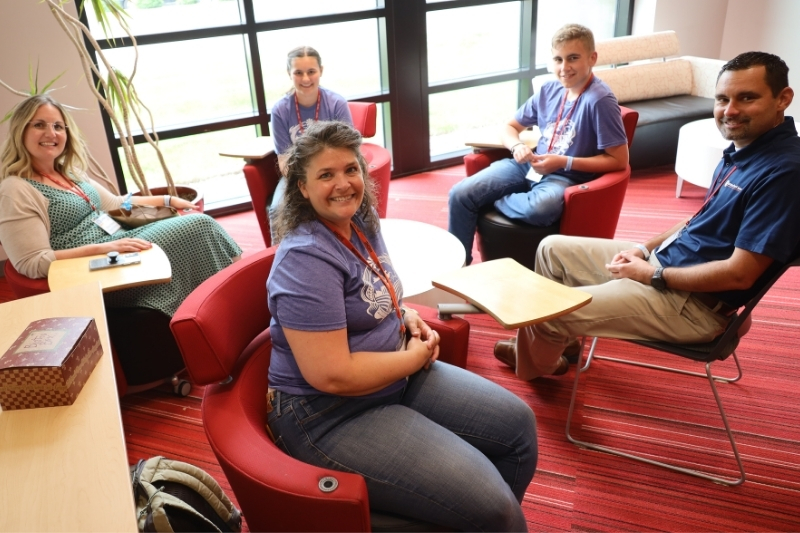 Here I am with some Homeschool Iowa volunteers during a break at the Homeschool Iowa Conference. 
---
Homeschool Iowa:
Encouraging Homeschool Networking
---
If it weren't for a small support group in our local church, my mother might have never learned about the homeschooling movement at all. The group leaders spoke about creating Christ-centered homes where children were allowed to reach their fullest potential.
These mothers talked about a model of home education that could fit children's unique giftings and learning abilities.
My own mother's curiosity was awakened that year. She bravely responded by removing my five siblings from the public education system.
That same year, Homeschool Iowa was a newly-founded organization.
Its simple, photocopied newsletters – folded, labeled, and stamped for mailing at a kitchen table – reached families like mine.
They offered information, encouragement, and support.
---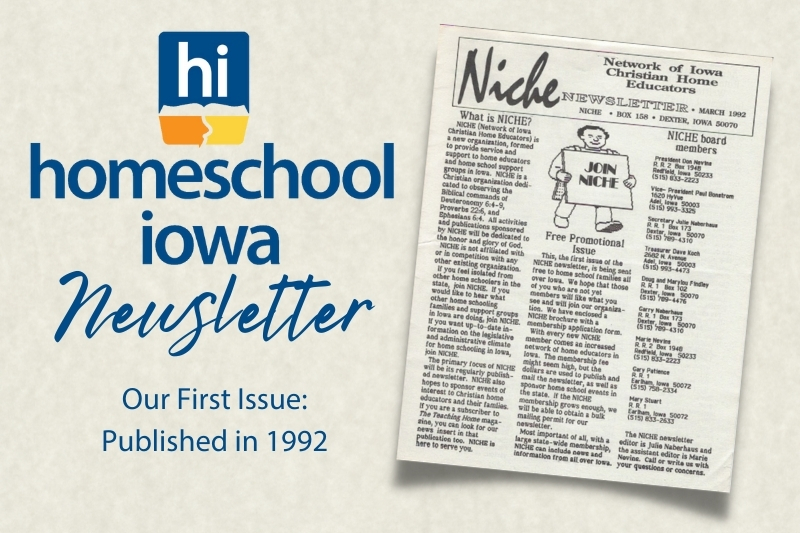 ---
Homeschool Iowa:
Protecting Homeschool Freedom
---
But these newsletters were more than tools to provide notice of roller skating parties and used book listings. They were full of urgent updates and calls to action.
In those early years, when teaching at home had just been legally recognized, the Homeschool Iowa Newsletter offered alerts with lists of addresses and phone numbers so homeschoolers could contact their legislators.
Homeschool Iowa
continues this important work 
supporting your homeschool journey
with many new tools and resources.
Using email, social media, Capitol Day events, and the powerful VoterVoice system, Homeschool Iowa's Lobbyist and Advocacy Team lead the effort to protect home education rights and freedoms.
---
Homeschool Iowa:
Supporting an Educational Method that Works
---
My own steps as a teenager into the world of homeschooling were truly life-changing.
I was able to take not only the classes I needed for graduation but also some related to my own interests. For the first time, I had the opportunity to give input about what I wanted to learn.
When it was time to graduate, I participated in the very first Homeschool Iowa graduation ceremony. 
I stood on the stage with six total strangers believing that my connection with homeschooling was coming to an end. Boy, was I wrong!
---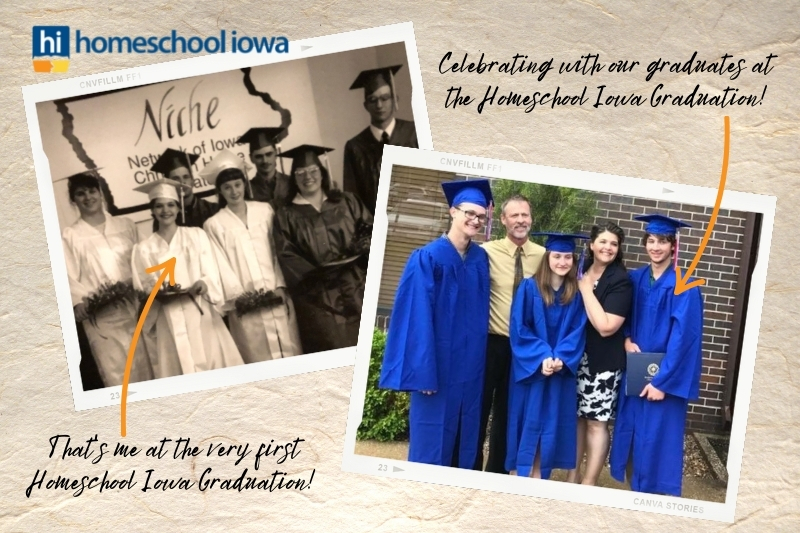 ---
Over the next few years, my husband and I celebrated our wedding and grew a family of kids.
The Homeschool Iowa Newsletter kept on coming in the mail and eventually became a polished magazine. 
The annual conferences hosted by Homeschool Iowa presented speakers we wanted to hear. We went, and, before we knew it, we were hooked.
My husband and I decided we wanted our children to have the option to learn the way they were wired and to reach their full potentials.
We wanted
a Christ-centered home,
and homeschooling
was one of the tools
we wanted to use to get there.
We are now second-generation homeschooling parents with ten kids of our own.
Three of our children have walked across the stage in the same Homeschool Iowa Graduation ceremony in which I participated twenty-two years before.
With the pandemic restrictions last year, we simply tossed our newest graduate his diploma over breakfast and were happy to celebrate as a family. We all earned it together.
We have six children still homeschooling, and our passion to homeschool has only deepened.
---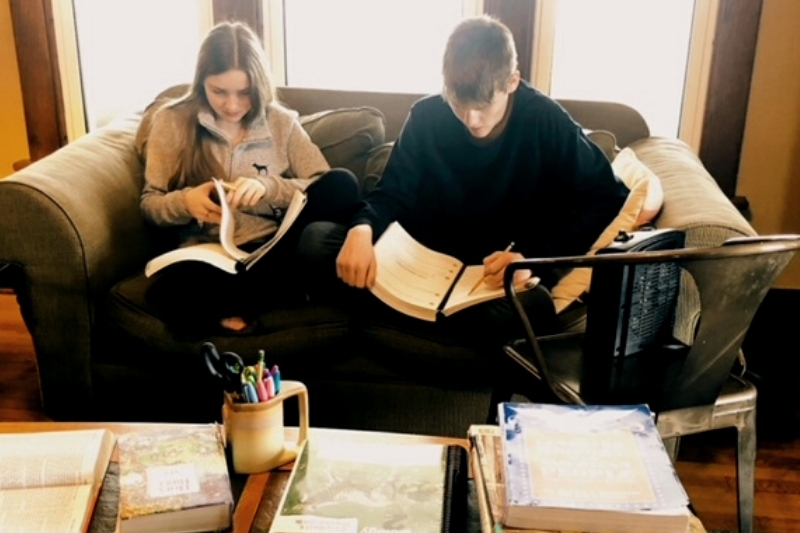 Homeschooling in action in our home!
---
That passion has moved me to also volunteer for Homeschool Iowa.
I'm now serving as manager of the Homeschool Iowa marketing and social media teams.  
The best part of joining as a volunteer is working with some of the very women who prayed for me as a teen.  
I love the fact that Homeschool Iowa served our family in so many ways over the last quarter of a century. 
And I am sure
Homeschool Iowa
will play a key role
in supporting your homeschool journey, too!
If you are looking for options with your struggling learner, homeschooling is a great option. 

 

If you are looking for a way to untether your gifted learner, homeschooling is a great option. 

 

If you are looking to firm up your foundation and strengthen your family, homeschooling is a great way to begin. 

 
No matter where you are, be of good cheer! God knows the end of the story.  
At Homeschool Iowa, we will keep praying, answering inquires, and sharing the message of homeschooling.  
If you are a member, a follower, or a supporter, you are a part of the Homeschool Iowa story.  
You are the face of Homeschool Iowa. We see you! 
---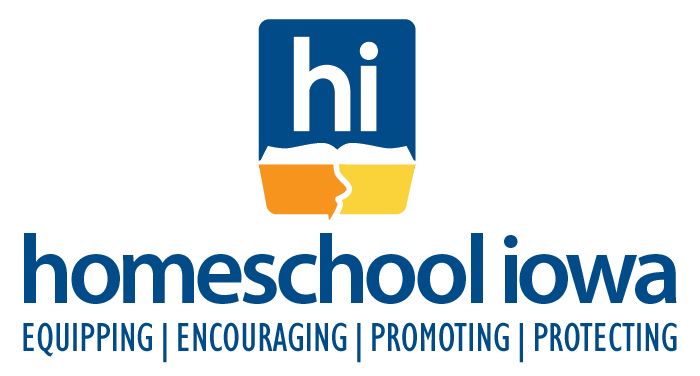 ---
As a homeschooling mom who's been blessed by homeschool community members, I'm giving back because they gave so much to me.
---
---
Even if you're only a year or two ahead of a brand-new homeschooler, share what you know.
Offer ideas and suggestions to other homeschoolers in the Homeschool Iowa Facebook Discussion Group
Send a positive message to and pray for a homeschooling mama who needs encouragement.
Volunteer to share your skills and talents with Homeschool Iowa. We're always seeking help with events, publications, social media, advocacy, and more!
Plan to come to the Homeschool Iowa Conference or Capitol Day – and bring a friend!
Help your Homeschool Iowa Regional Representative host a Homeschooling 101 in your area.
Write an email to your legislator or volunteer to help the Homeschool Iowa Advocacy Team monitor legislation.
Become a Homeschool Iowa member
Make a donation to support Homeschool Iowa efforts.
Tell us about your Homeschool Iowa story and share your voice.
Email us at [email protected] and tell us how Homeschool Iowa has supported you in your homeschooling journey.
We'd love to share your story!
---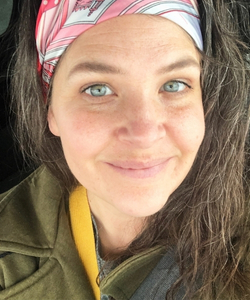 ---
Amber Smith
 is the Marketing Manager for Homeschool Iowa. She lives in southern Iowa with her chef husband of 25 years and their ten wild children. Her desire to help homeschool parents avoid burnout and to build their best lives with strong relationships led her to start blogging at
200 Fingers & Toes
. There, you can find her latest articles and reviews, her
In Due Season
homeschool podcast
Homeschool Start-Up
episodes, and much more!
---