Homeschool space setup
can be an exciting prospect
or a daunting task.
Let us help!
---
What do you need in a homeschool space?
---
You can create the perfect homeschool space, whether you have lots of extra room or you are living in a small house. Our team of homeschool veterans' tips will help you organize and get your students learning comfortably.
First, be mindful that your homeschool space arrangement will combine your students' learning needs with your family's personal style.
What are the MUST-HAVE ITEMS for a homeschool space?
---
---
• Appropriate Seating
• Good Lighting
• Comfy Reading Spots
• Quiet Work Zones
• Command Center
• Assignment Turn-In Box
• Supply Storage Containers
• Bookshelves
• Library Returns Container
• Records Storage
• Creative Space
---
Match Your Homeschool Learning Space
to Your Subject Setting Needs
---
One of the beauties of homeschooling
is that it allows you to offer
flexible and customized learning space for your child.
Free yourself from any sense of need
to recreate a school classroom environment.
Let's consider homeschool space ideas for the two types of subject settings in most homeschool homes:
table subject spaces and couch subject spaces.
Each has different seating needs.
---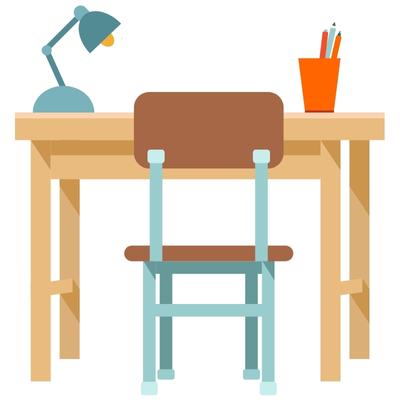 ---
Seating for table subjects will provide flat-surface space for your students as they complete tasks like handwriting, science lab work, or computer work.
If you have room, look for unused spaces in your home to place a dedicated homeschool workstation for each of your children. A drop-down desk can be a space-saving option. How about borrowing an idea from college dorm rooms, placing beds on lofts above student desks? As you plan, be mindful of lighting, electrical, and internet access needs.
Perhaps you prefer setting up a dedicated space in your home where the whole family can gather for table subject tasks. This can work as well, especially if your students use a shared computer for homeschool work.
Maybe your home doesn't offer enough space for an area devoted solely as a homeschool work area. Don't worry! Many homeschooling families gather at their dining room table for a shared learning space.
---
Table Subject Space
Special Accommodations
---
Your choice of seating for table subjects will depend on your available space, but you'll want to make a few special accommodations for young students who are just learning to write. Try to make sure your seated child's legs are parallel with the ground and his feet can rest flat on the ground to support his spine. A small stool can provide added foot support. In addition, check to see that your child's forearm can rest on the flat surface perpendicular to his upper arm.
If you have a student with special needs, you'll want to adapt learning spaces for those concerns as well.
Even if your home setting has limited space for table subjects, make an effort to create at least one quiet work zone to give students ownership of their homeschool time. Brainstorm with your children to identify a place for individualized schoolwork.
---
Older students often find they need relief from sound distraction.
If you live in a smaller space,
a set of noise-canceling headphones can meet this need.
---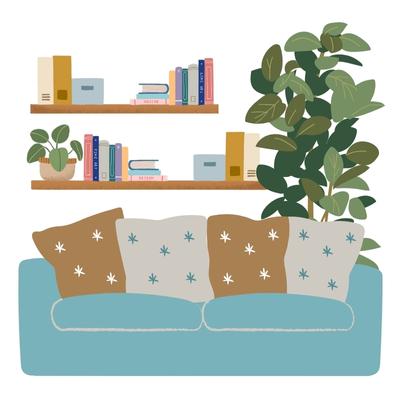 ---
Homeschool couch subjects are based around reading. Setting up a special reading spot is great if you have a lot of space. What if you don't? No worries.
The truth is most homeschooling families gather on the living room couch for dedicated reading time. Couch subjects are the more casual part of the homeschool day.
Many families read Bible, history, and even subjects like science together before older students break off to do individualized subject work.
Couch subject time builds community in your home and helps little ones master the listening skills they need to be good learners themselves.
Try adding blankets and throw pillows to help the kids get comfortable. Larger floor pillows are an inexpensive way to add flexible seating.
---
Providing a tote of rotating items for little ones to access during this reading time can minimize distractions.

Notebooking or completing printable worksheets on a clipboard can help older kids stay focused on the reading subject.

Try adding fill-in maps or related coloring pages at reading time.
---
How do you build a homeschool space?
---
If you're just starting your homeschooling journey, look at how you currently use your home space and where you naturally gather as a family now.
Building a quality homeschool space will develop naturally based on your needs. Be flexible. Continue to adapt as your students grow, work more independently, and develop their own learning routines.
A key component among our veteran team's homeschool space ideas is a command center.
---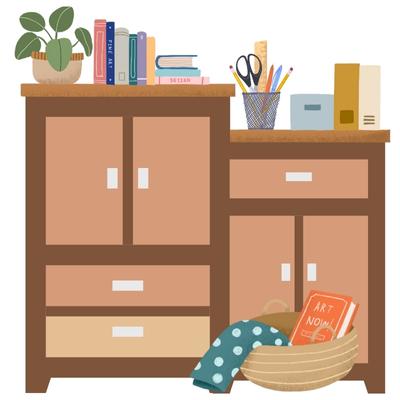 Homeschool Command Center
---
In essence, this is a place where you can keep everything you need to launch your homeschool day. That will include your school supplies, notebooks, teaching guides, and answer keys.
This can also be where you establish an assignment turn-in box so that papers don't get "lost" on their way to you.
It's also a great place to post a bulletin board or white board with the day's schedule.
---
Keep Homeschool Supplies Organized
---
Your command center will include a dedicated space for storage of the homeschool supplies you regularly use.
Check our list of the Top 10 Homeschool Supplies for suggestions on what you might need.
---
Use Existing Space
or Repurpose Furniture
---
Where is the best spot in your home for a homeschool command center? Take a stroll around your house looking for potential locations. An underutilized cupboard? A cleaned-out hall closet?
Be creative. You can even use a file box, tote, or milk crate to keep your teaching materials in if you tend to move from room to room.
One of our favorite homeschool space ideas is to look for an older television cabinet, a used armoire, or a cubby storage shelf. These can make adaptable command centers that blend into your household.
An added benefit of a repurposed cabinet is that you can close the doors on the associated clutter that homeschooling often creates. If you are naturally drawn to order and tidiness, this is a great choice for you.
---
Establish good habits early in the school year.

Help younger children learn to return everything to the proper places at the end of learning time.

Set cleanup as the final step of the school day.
---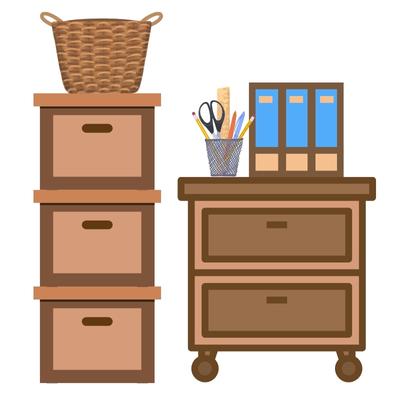 ---
How Do You Homeschool in Small Spaces?
---
Storage tools, organization, and a bit of creativity can help you successfully homeschool even in small spaces.
The most popular of our gathered homeschool space ideas is the tip to use rolling carts. They offer a mobile solution for stowing homeschool stuff when limited household space is being used for multiple purposes. Some families have a single storage cart for all of their homeschool command center materials. Others allow students personalized carts for all their homeschool and craft items.
And, of course, homeschool space limitations can be met by using potential locations outside the four walls of your home: the park, the library, museums, zoos, even your backyard. Reading out on the play fort or the trampoline is an inventive way to change attitudes on a challenging day.
---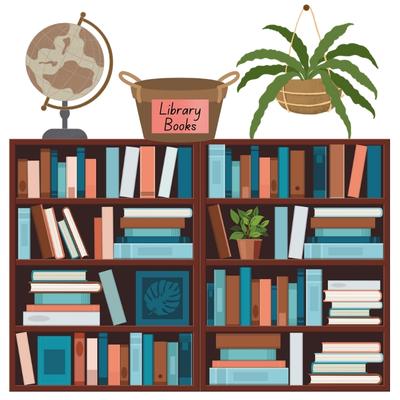 ---
Bookshelves to the Rescue

---
When looking to add homeschool space in any home, small or large, think vertically. Bookshelves are an effective way to add storage while minimizing the overall footprint, and they can hold more than your books.
The lower shelves of a bookcase can contain totes of toys and blocks for younger students' easy access. Middle shelves can be used for textbooks, reference books, and math manipulatives. The upper shelves can store your current reading books and curriculum. Adding bins and dividers maximizes your storage for homeschool supplies while your library grows.
---
---
Homeschoolers are widely known as book lovers. Keep your book collection manageable by using your local library.
Many families only purchase the books they intend to keep for their long-term library, borrowing the rest and returning them. Other families resell their books at the end of the school year to reduce storage needs and to recoup some of their expenses.
No matter what you choose, teaching your children to care for and return books to the proper location will benefit the whole family.
---
Establish a library routine.
A library return container will make getting ready for library visits much easier for you as a homeschool mom.
---
Managing Space for Records

---
---
Take photos of large homeschool projects to archive their completion digitally.
---
The Conclusion Is Clear:
Setting Up Your Homeschool Space Is Easier Than You Think
1. Consider Your Family's Personal Learning Needs
---
Setting up a new homeschool space takes an investment of time first. Take a few weeks to observe your family. How do they gather? Where do they work now for schooltime: together at the dining table or lounging in the family room?
It is a great idea to invite the whole family to share ideas on how to create the homeschooling space that will fit.
---
2. Add Items to Serve Your Needs and Fit Your Space
---
Where do you all tend to spend your schooltime for table subjects and couch subjects? This will help you determine if you need to add furniture to your homeschool area or individual bedrooms.
Look to utilize open wall space for school shelves, maps, or posters. Great lighting and a place for your curriculum are the first immediate needs to address.
---
3. Get and Keep Organized
---
Establishing work routines and daily cleanup habits will help you no matter if you are using the kitchen table or an entire room.
Create a command center for you to have a smooth beginning to each day. This is a great storage space and a place to turn in completed work. 
Establish an exit plan defining schoolwork completion for each child. Take the time you need to discover the tools that help the whole family move through their check-out plan and finish their work.
---
4. Be Creative and Flexible: You Can School in Any Sized Space
---
Don't get distracted by another homeschool family's journey, but create a plan that fits your family's needs and spaces. Just as we evaluate our progress in our homeschool learning, we can also evaluate what is working in our homeschool setup as well. 
No matter how well prepared you think you are, there will always be changes to make each new school year, so stay flexible.
---
You Can Set Up the Perfect Homeschool Space for Your Family!
---
Our Homeschool Iowa team is confident that you can use these homeschool space ideas and tips to create the perfect learning environment for your family.
---
---
We created an "Easy Homeschool Space Ideas" printable to help you get started developing your own homeschool space. You can get a copy with this link.
Are you a Homeschool Iowa member? If so, you'll find this helpful printable in our website Member Portal, along with many additional resources and tools for our members, like our Homeschool Iowa Planner, high school transcript templates, special offers, and more! Not a member? Become a member partner today!
---
Bonus Homeschool Space Ideas:
Homeschool is less about setting up physical spaces and more about encouraging a connection to learning that is exciting, engaging, and positive.

Don't let lack of space or materials discourage you from pursuing your best homeschool experience.
Grow into it year after year!
---
Do you have some homeschool space ideas you'd like to share?
Offer them in the comments section below.
---
---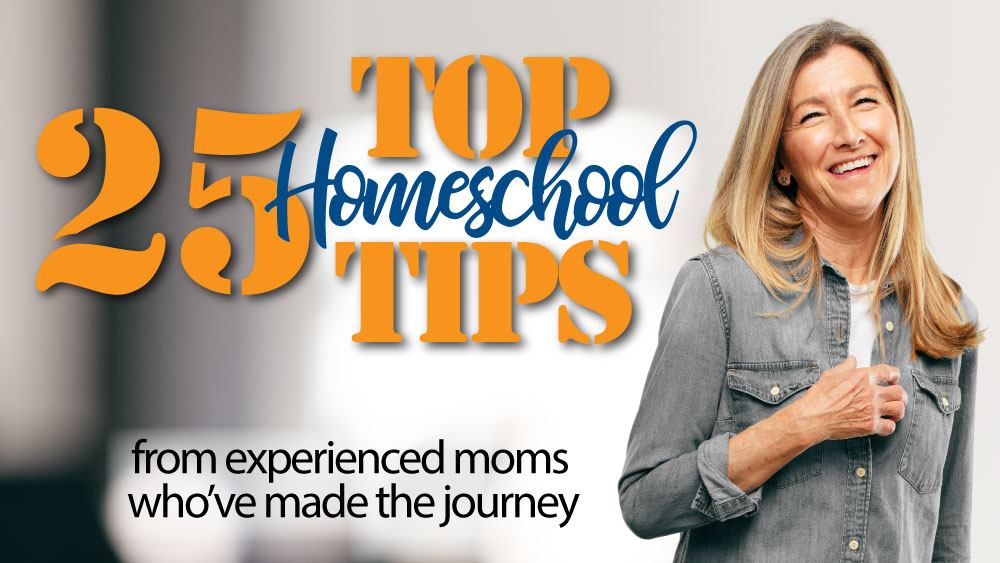 ---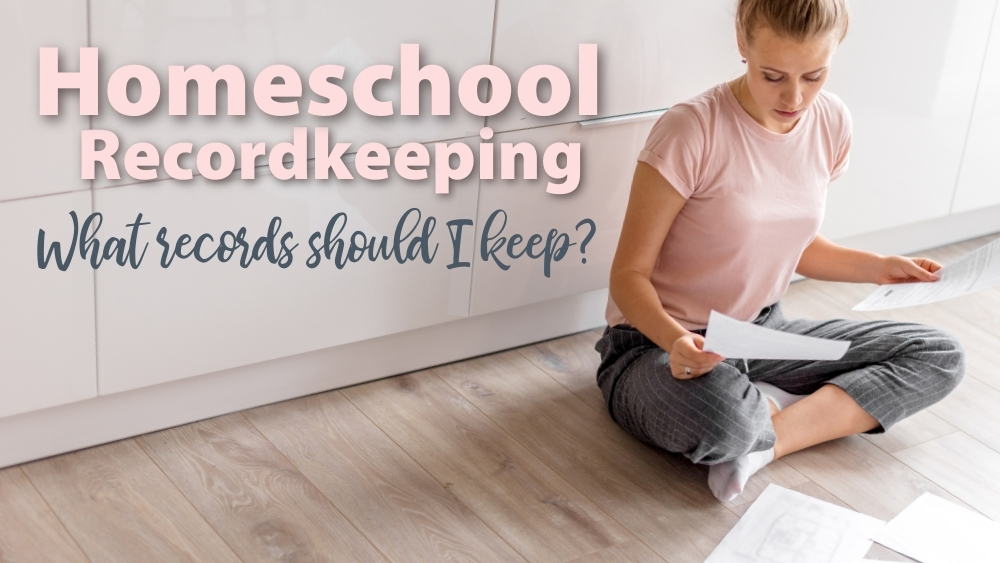 ---