---
How our Iowa homeschool law passed is chronicled in the narrative provided below. Included are references and quotes from original sources from that time period in 1991.
Before we start, have you read the previous installment in our History of Homeschooling in Iowa?
A 1990's Statehouse Miracle
provides an amazing account of a pivotal incident
that occurred in the Iowa Statehouse in 1990,
the year before the Iowa homeschool law was passed.
Reading A 1990's Statehouse Miracle will provide a clarifying foundation to help you better understand the events recounted below.
---
---
Almost immediately after events described in A 1990's Statehouse Miracle, preparations and strategies began for the coming 1991 legislative session.
It was almost inevitable
that some type of homeschool bill
would be pushed through the Iowa Legislature.
At this point, many of those involved in these efforts were expressing frustration and fatigue.
Iowa Department of Education Director, William Lepley, voiced his discouragement with the lack of results. In response, he and his staff focused on developing  "homeschool effectiveness indicators similar to those for public schools" that could be included in a homeschool bill.
Legislators, too, continued discussions after the 1990 session adjournment to fine-tune a legislative framework for a homeschool law that could be passed by both chambers.
During the fall of 1990,
elections were held
and a new group of legislators were selected
for the opening of the 1991 Iowa Legislative Session.
Once again, as in the preceding year, the Dallas County Home School Support Group met with Senator Jim Riordan and Representative Dave Hibbard.
This time, discussions centered on the creation of a bill to be written by the Dallas County group and sponsored by Senator Riordan.
---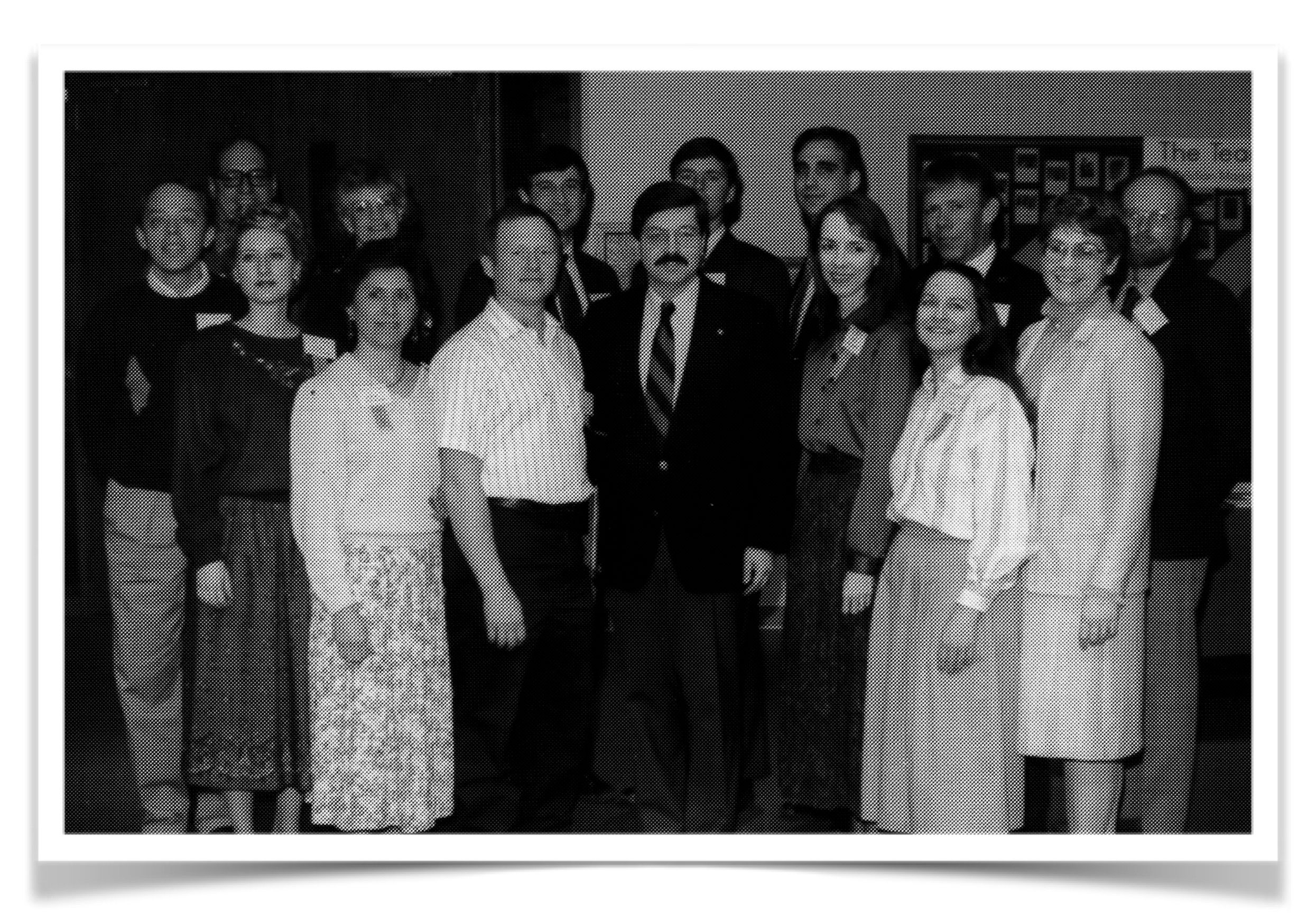 The NICHE (Homeschool Iowa) Board photographed in 1993 with Governor Branstad. Ten board members in this photo were among the Dallas County Support Group members who were highly active in the process to secure Iowa homeschool recognition in the Iowa Code.  
---
Senate File 239, the Dallas County Bill
---
By February 26, the Dallas County group had successfully moved their bill, Senate File 239, through the Legislative Service Bureau and presented it to the Senate with seven sponsors: Senators Riordan, Dieleman, Taylor, Jensen, Rensink, Peterson, and Kersten.
This simple piece of legislation provided the following provisions for Iowa home educating families:
---
Written notice filed with the clerk of the district court of residence (third-party reporting to avoid the possibility of any required school district approval).


Required certification of only one of the following:

Evidence that the teaching parent had a baccalaureate degree from an accredited educational institution
A written statement from a licensed teacher which certified that the teacher had examined a portfolio of the child's work and adequate progress was being made
Nationally normed standardized test results that demonstrated achievement of at least the fifteenth percentile
A written statement that the parent was conscientiously opposed, due to a bona fide religious belief or training, to the child's attendance at a public or accredited private school.



No supervision or approval of instructional methods or curriculum by public school officials was allowed without parental consent
---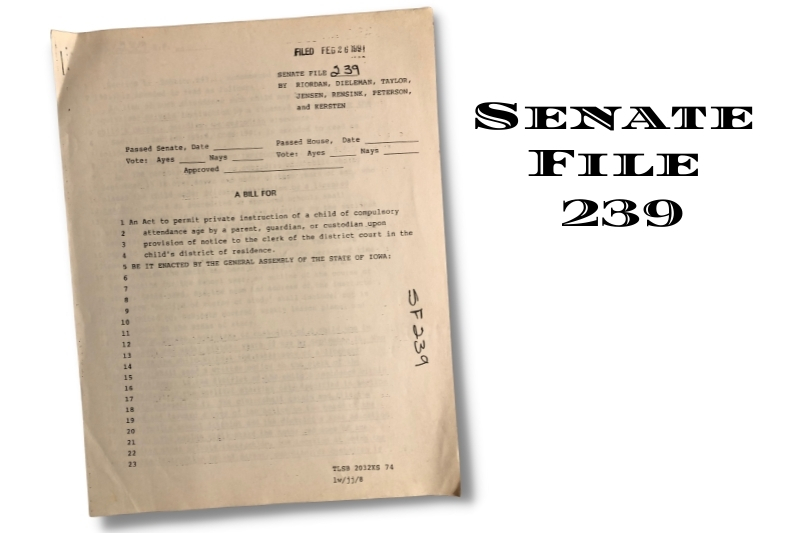 ---
Even as this bill was introduced in the Senate, leaders in both legislative chambers, the Governor's education advisors, and Department of Education officials were attempting to work with two new House study bills.
House Study Bill 22 and House Study Bill 84 were created upon the foundations of 1990 Legislative Session bills, "The Governor's Bill" and Senate File 149, dealing with truancy and homeschooling.
Ed Dickerson, the lobbyist for Iowa Home Educators Association, the state homeschool organization of that time, turned his attentions toward the House study bill negotiating process,  calling for a final product that would contain these options for homeschoolers:
---
Certification
Dual enrollment or satellite school
Testing
Journal and/or portfolio of work
Third-party reporting (county clerk, etc.)
---
House File 455 Introduced
---
Soon, the combined bill, House File 455 emerged.
This bill lowered the compulsory school attendance age to six, added new wording and sections in Iowa Code 299 to deal with truants, and added a whole new section in the Iowa Code to deal with Competent Private Instruction.
Unlike its predecessor, Senate File 149, House File 455:
---
Did not require dual enrollment, making it an option instead.
Allowed Competent Private Instruction under certified teacher supervision rather than under direct instruction only.
Removed the Area Education Agency pre-screening requirement for homeschoolers.
---
A coalition of conservative Christian homeschool-supportive groups was instrumental in gaining the insertion of the following protective language:
A finding that a child is truant, however,
shall not by itself mean
that the child is a child in need of assistance
within the meaning of chapter 232
and shall not be the sole basis
for a child in need of assistance petition. [299.8]
---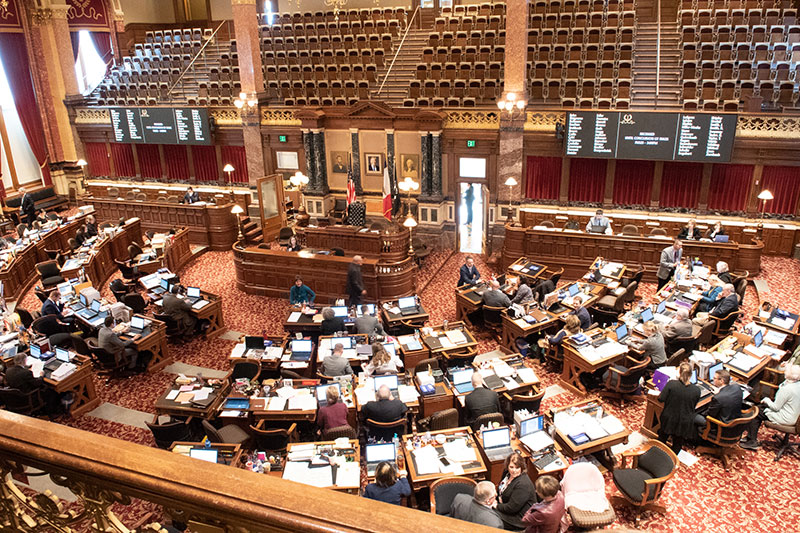 ---
---
Inevitably, House File 455 passed in the House on March 27, 1991, on a 64-34 vote.
At the time, IHEA was calling for a "no" vote on the entire bill because:
The bill only allowed two options for homeschoolers: supervision by a certified teacher or standardized testing. (The version at that point reserved portfolio use solely to refuting test results. Also, the portfolio evaluator was to be selected by the Department of Education.)
The bill mandated special education referral for homeschooled students whose test scores demonstrated "need."
The bill placed the responsibility for testing costs on homeschooling parents if they had not dual enrolled their children.
Throughout this process,
homeschooling families exerted an impressive effort
to impact the process.
At that time, there were less than 200 member families in IHEA, but a large number of homeschooling families had formed networks and communication channels all across the state. (Remember that there was no email or social media at that time!)
Calls and letters were sent to legislators. Many home educators spent hours at the Statehouse.
Due to these endeavors, and with the help of friendly senators on the Senate Education Committee, like Ray Taylor and Bill Dieleman, changes to deal with most of the concerns were made in the Senate.
IHEA then threw its support behind House File 455.
The bill passed the Senate in late April.
IHEA Vice President Terry Hagedorn noted that some Iowa homeschoolers were still trying to defeat the bill, but he believed "HF 455, as passed by the Senate, would be one of the best home education statutes in the nation."
A link to an archived listing of all bills passed by the 1991 Iowa Legislature is provided here. It includes House File 455 along with a brief description.
A shortened version, with only the title page and the actual page on which House File 455 appears, is linked here.
---
---
On May 23, 1991, Governor Terry Branstad signed House File 455 into law.
State Representative Horace Daggett, a self-described "born-again believer," related how difficult it had been to know what to do with this bill.
He stated that Christian legislators met, discussed the bill, and prayerfully sought God's guidance in the matter.
Daggett noted that most Iowa education leaders (school board members, superintendents, and State Department of Education officials) were strongly opposed to any provision to allow homeschooling. Or, if it was to be allowed, most of these leaders felt that homeschooling should be under their complete control.
Senator Daggett concluded:
"I feel the final version of H.F. 455
was as good as we could get at this time.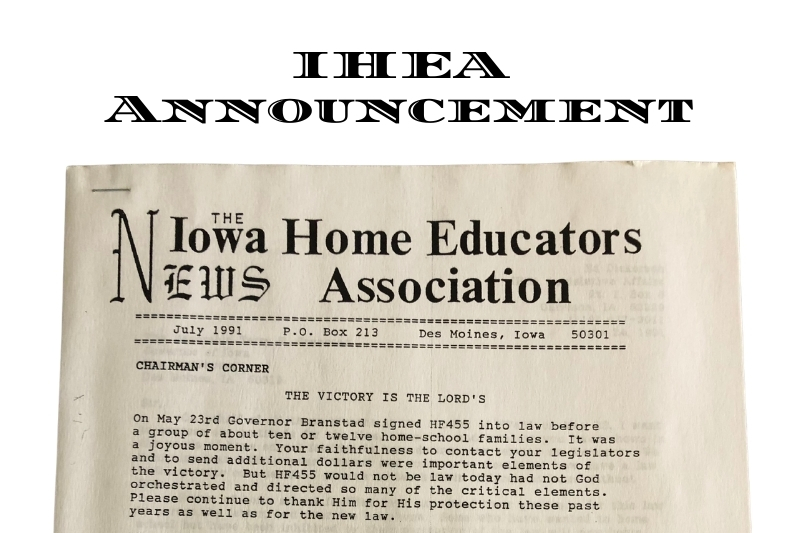 ---
The Administrative Rules Process Begins
---
After House File 455 was adopted, the Department of Education was instructed to begin the process of promulgating administrative rules to implement the law.
Homeschool leaders immediately began crash courses to familiarize themselves with the administrative rule promulgation process.
Since the law took effect before the 1991-92 school year, but the administrative rules implementing the law were not yet in place, questions arose as to how to comply with the law, especially the reporting requirements.
IHEA produced a sample reporting form for homeschooling families to use.
On January 16, 1992,
a proposed version of the administrative rules
to implement House File 455
was presented to t
he State Board of Education.
A hearing to receive public comment on the rule proposals was scheduled for February 25, 1992.
Approximately 200 persons attended this hearing, many submitting oral comments.
---
SIDE NOTE: NICHE (Homeschool Iowa) Is Formed
During the months leading up to this hearing, members of the Dallas County Homeschool Support Group had been meeting and prayerfully considering the creation of a new Christ-centered homeschool group dedicated to informing and networking Iowa home educators.
At the February public hearing, they distributed a flyer to determine if interest for such a group existed. An impressive number of signatures was gathered.
This encouraging result prompted eight of the Dallas County Homeschool Support Group families to contribute $25 each toward publishing and sending the first newsletter for the newly formed group to a large mailing list in late February.
---
The final draft of the administrative rules to implement House File 455 was presented to the State Board of Education at its April 9 meeting in Bettendorf.
The rules were then sent to the Legislative Administrative Rules Review Committee for consideration at its May meeting.
---
Legislative Review of House File 455 Rules
---
On Tuesday, May 13, 1992, at 2:15 p.m., the Legislature's Administrative Rules Review Committee met at the State Capitol to consider the administrative rules passed by the State Board of Education to implement House File 455.
Kathy Collins, the Department of Education Legal Counsel, presented the rules to the Committee.
Committee members then invited public comment from the assembled home educators.
Homeschooling mother, Mary Syversen, a future Homeschool Iowa board member, presented her list of concerns.
When Mary concluded her comments, the Committee chairman asked Kathy Collins if she wished to make a rebuttal.
Collins declined, stating, "I'm tired of responding to these objections."
---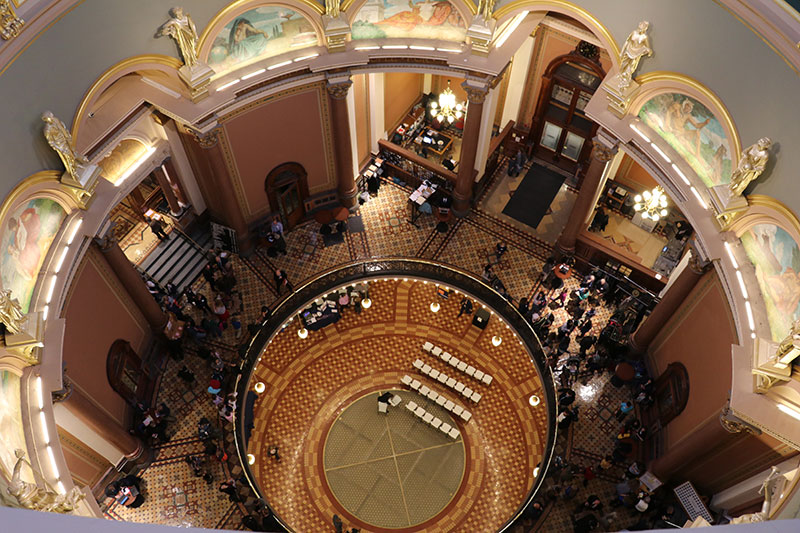 ---
NICHE (Homeschool Iowa) Board President, Don Nevins, then presented a list of objections to the adopted rules, including:
---
Limitations imposed on the number of families a teacher could supervise.
Complexity of the portfolio evaluation section, including requirements for a minimum of four different assessors for a high school student's portfolio.
Restrictions against private testing through Bob Jones University, Christian Liberty Academy, Abeka, and other reputable companies.
---
Homeschool Representatives Meet with the Governor
---
On June 9, 1992, a small delegation met with Governor Branstad to discuss the administrative rules to implement House File 455.
NICHE (Homeschool Iowa) Board President Don Nevins, joined by Mary Syversen and Clarence Townsend, petitioned the Governor to rescind or file formal objections to the rules opposed by homeschoolers at the Administrative Rules Review Committee meeting.
The Governor had until August 16, 1992, to rescind any rule that he felt was arbitrary or capricious or beyond the limits of the law.
The Governor's liaison contacted the delegation shortly afterwards to inform them that the Governor was not inclined to take any action against the adopted rules, but, rather, to wait and see if problems would arise.
---
---
In the fall of 1992, a "missing comma" was discovered by the Department of Education in the adopted administrative rules.
The importance of careful punctuation was illustrated when it was realized that the "missing comma" in the portfolio section appeared to make the three pages of detailed portfolio directives that followed the comma voluntary rather than mandatory!
The Department declared that the comma had actually been in the early copies of the proposed rules, but had been inadvertently left out of later copies, including the one adopted by the State Board of Education on April 9.
NICHE (Homeschool Iowa) representative, Mary Syversen,
addressed the State Board of Education at its November meeting.
She brought up concerns about the oppressiveness of the rules governing portfolio evaluation. Syversen noted that NICHE (Homeschool Iowa) was especially concerned that the Department of Education was preparing a "checklist" that portfolio evaluators would be required to use.
The law gave the portfolio evaluator, not the Department of Education, authority in portfolio evaluation, Syversen pointed out.
After listening to Syversen's presentation, the board approved, without further comment or action, the insertion of the "missing comma."
---
Continued Legislative Efforts
---
In January of 1993, NICHE (Homeschool Iowa) prepared a list of legislative proposals that were submitted to the Legislative Service Bureau to be written into bill form.
Six proposed law changes were incorporated into this piece of legislation:
Adding a phrase that instructed school superintendents to "make every effort to accommodate a family's sincerely held religious beliefs" before turning a truancy case over to the county attorney.
Allowing parents with any valid Iowa teaching certificate, regardless of age restrictions or endorsement, to homeschool their own children without supervision or assessment.
Allowing persons who were currently teaching – or had taught – at the elementary, secondary, or college level without a teaching license to teach their own children without supervision or assessment – or to supervise other home educators.
Removing the baseline testing requirement for those who had chosen the portfolio assessment option.
Removing the word "qualified" from the description of a portfolio evaluator. (This word allowed the Department of Education to require special training for portfolio evaluators.)
Allowing for the option of presenting a portfolio of the child's work to refute test scores below the required standards.
Although this bill was not ultimately adopted by the 1993 Legislature, it formed the starting framework for ongoing Homeschool Iowa efforts to lobby for homeschool protections and freedoms that continue to this day.
---
What Does All This Mean for You?
---
The narrative of how our Iowa homeschool law passed showcases the importance of home educators working together cooperatively.
Become a Homeschool Iowa member to join the efforts 
to preserve and protect homeschool freedoms!
---