---
It's almost the end of the school year! There have been some challenges and tears to get to this point, but there has been a lot of learning and laughter, too.
This is a great time to reflect on what went well and what didn't go so well while the school year is still fresh on our minds. In my house, this means it's time for our annual end-of-year school survey.
---
---
Think about it: When was the last time you were asked to complete a survey? In just the past couple of days, I was asked to fill out surveys for a product I had purchased, a business I had contacted, music I have enjoyed, and an online conference I had attended.
Surveys are obviously beneficial. They provide insight and help guide companies in understanding how they must adapt to ensure customer satisfaction.
My daughters are not my customers, and I don't expect them to be 100% satisfied with all of their lessons, but they are my students, and their feedback is valuable to me. If they are getting burned out by school, then so am I. And vice versa.
These surveys, which I have been doing for many years now, help me to plan for the upcoming school year. If a particular curriculum is not working, I know to look elsewhere for the following year. If there is something we all loved doing, I can try to figure out how to incorporate that again.
(As a side note, I only do an actual survey once a year at the end of the school year, but we still do make adjustments throughout the school year, if needed.)
Not only do the surveys help me in planning future studies, but they allow my daughters to have some say in their education, to make their thoughts known, and to motivate them to think of their future goals. And it helps me to learn a little bit more about each of them.
I have also found the surveys to be encouraging to me. How can you not be encouraged when your daughter writes, "Only three? I learned a lot of things…" in her response to a survey question asking her to name three things she had learned in the past year? In addition to that, my daughters' answers to why they like being homeschooled help validate the fact that the time and effort spent educating them is worth it.
I appreciate their honest answers in ways to improve, and I often agree with their suggestions. But not always. Their responses brighten my day and make me laugh. I would have never known my daughter didn't like the fact that "we don't blow things up" (in response to what she didn't like about homeschooling) if I hadn't given her the end-of-year survey. There wasn't much I was going to change about that, other than getting out a bunch of balloons and saying we could blow those up, which proved to be quite entertaining, even if it wasn't what she had expected!
---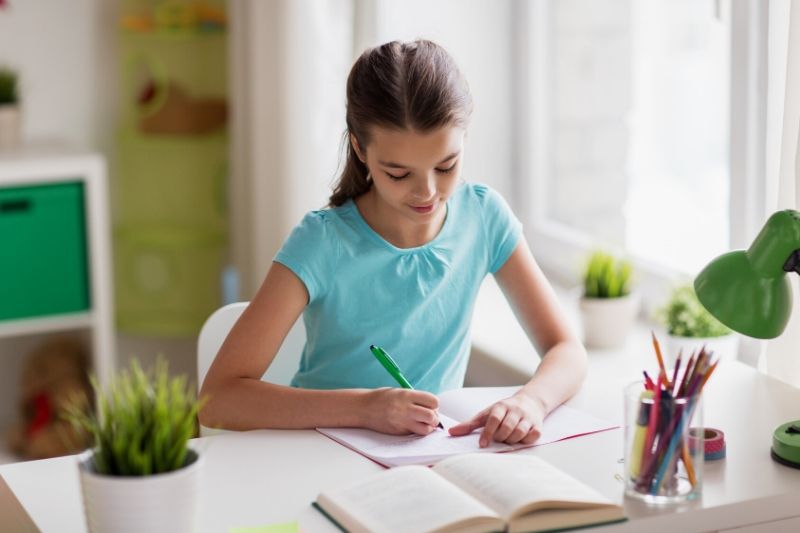 ---
---
There is not just one way to conduct a survey. In our family, I type a list of questions for my daughters to answer. When they were younger, I asked them the questions and wrote down their responses for them so I could remember and refer back to them later. Now that they are older, they can fill out the entire survey on their own without any guidance from me.
I have seen surveys full of colors and graphics, which may be great for some families, but surveys do not have to be fancy! I prefer plain black-and-white questionnaires because it saves on paper and ink. I know I could save even more ink if I didn't include lines on my surveys for the answers, but I have learned the lines help to keep answers legible.
Surveys can even be created by using online survey forms to save even more paper and ink. Another option (for those who aren't very tech-savvy) is to keep the survey in a writing document and allow students to fill out the answers directly on the computer instead of printing it out.
---
---
Of course, a survey can't be completed without questions. When my daughters were younger, I asked fewer questions and kept the surveys very basic. As I had stated earlier, I used to read them the questions and write down their responses.
Now that my daughters are older, they can provide a lot more feedback. Our most recent survey had a total of eighteen questions and took my daughters less time to complete than their average math lesson (which happened to be on both of their lists as the least favorite subject).
I try to include open-ended questions or at least make them explain their answers. More details are more beneficial than a simple "yes" or "no" response!
Here are the questions I asked my daughters on the most recent end-of-year school survey:
1. What were your favorite subjects? Why?
2. What were your least favorite subjects? Why?
3. What do you think didn't work well for school this year?
4. What would you like to change for next year to make it better?
5. What was your favorite activity we did for school?
6. What do you think worked great for school this year?
7. What should we keep the same for next year?
8. Do you think I spent enough time doing school with you? Please explain.
9. How could I improve on teaching you?
10. What do you like about being homeschooled?
11. What don't you like about being homeschooled?
12. Name three things you learned this past year.
13. What are you interested in learning about next year?
14. What specific subjects would you like to study/learn more about?
15. What field trips would you like to go on next year?
16. What activities outside of school are you interested in doing? Why?
17. List any other suggestions or comments you have.
18. What are some goals you have for this summer?
---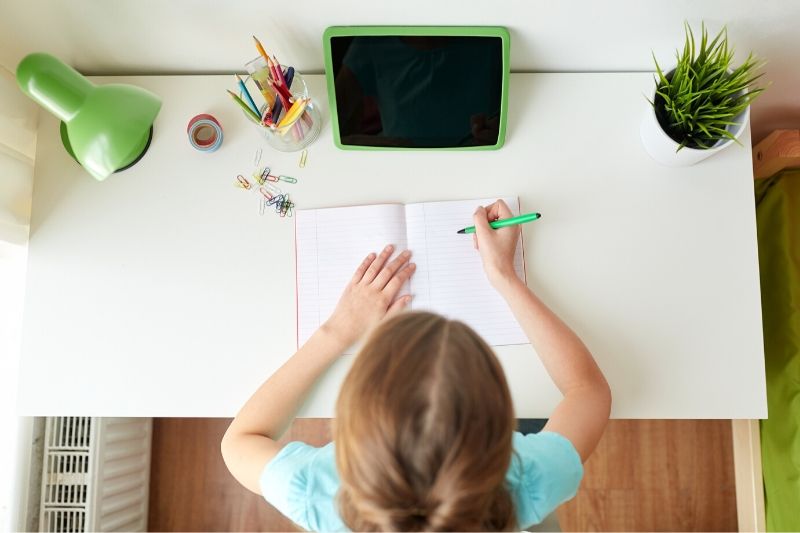 ---
---
Once my daughters complete their surveys, I read through them, ask for any needed clarifications, discuss the answers with them, and make additional notes on their papers.
When we discuss their least favorite subjects, we try to come up with ideas of how we can make it better. Should we try a new curriculum? Should we try to work on it at a different time of the day?
It's generally not fun to hear critiques, but they can be beneficial. I have to remember I am the one asking for this information and to be satisfied that they are opening up to provide me with their suggestions. I may not always agree, but their input is still important. I want them to be open with me about their thoughts.
Interestingly, even though my daughters completed their surveys on their own, some of their answers were very similar. They both enjoyed eating breakfast while I read a Bible devotion to them, so that's something we will try to continue next school year.
They both had a lot to say about why they liked homeschooling, but neither could think of an answer as to why they didn't like homeschooling. That was a relief!
---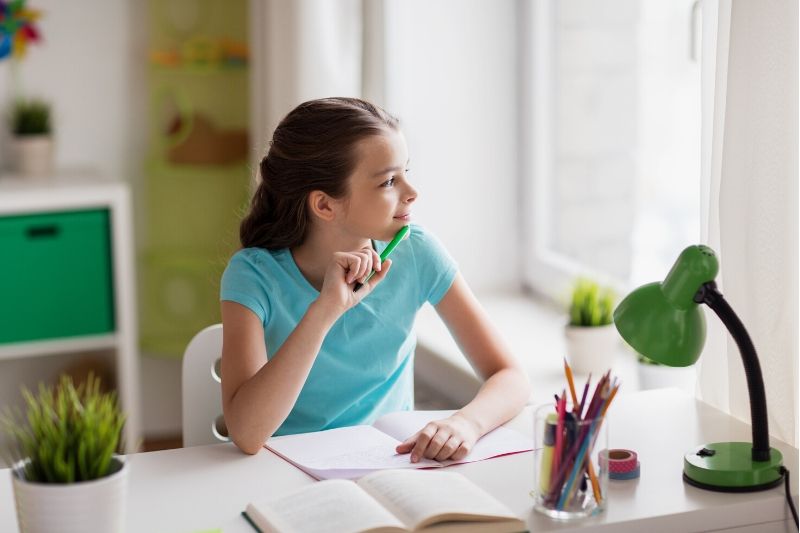 ---
Plan for the Upcoming Year
---
This fall, I will have two high schoolers, which is crazy to me! I'm looking forward to using the end-of-year school surveys as a starting point to create a four-year plan with one of my daughters and reassess the four-year plan of my other daughter.
Some of the curriculum will remain the same, but there will be some adjustments. We hope to spend some time this summer researching curriculum choices for specific subjects and topics they want to study more.
Starting the year off on a positive note is crucial!
---
---
What has been your experience with end-of-year surveys?
---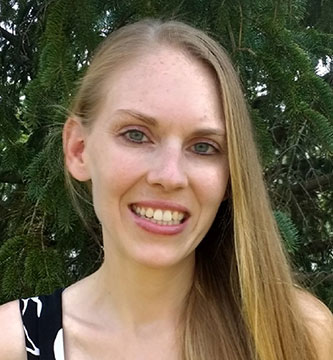 ---
---
Brigitte Brulz is a homeschooling mom, freelance writer, author, and journal creator.
She and her 12-year-old daughter will be releasing a book, entitled Aah! Blown Away, Crash!: An Alphabet Misadventure, in June 2020.
Brigitte offers free coloring pages and activity ideas, along with additional information about her books, courses she created for SchoolhouseTeachers.com, journals (including a reading journal, writing prompt journal, and field trip journal), and more on her website, at www.brigittebrulz.com.