Building Toward the Future
---
Building Toward the Future
is your opportunity to join in
Homeschool Iowa efforts
to support and protect Iowa homeschooling families.
---
You are
an important part!
---
---
The Story Behind
Building Toward the Future
---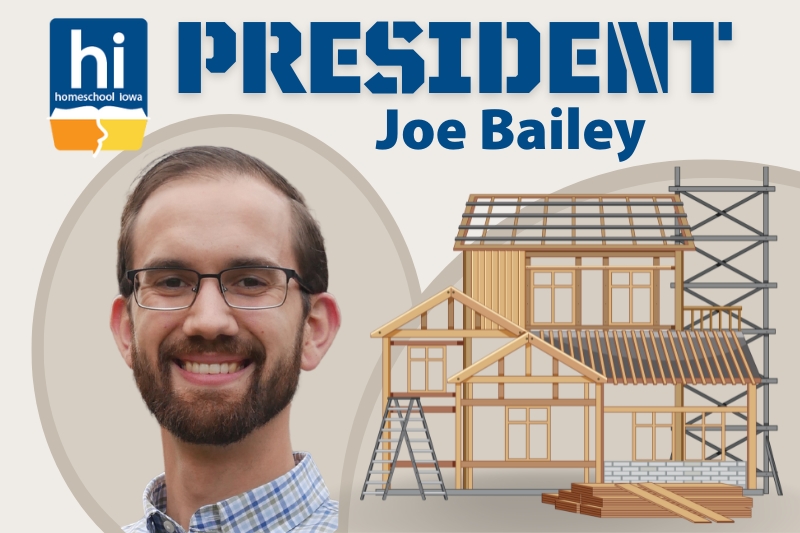 ---
Let's hear from HI President, Joe Bailey:
---
On the final day in October this year, what my wife and I had been dreaming about, praying about, and planning for the past decade finally happened. The contractors broke ground, and the house of our dreams started to take shape.
A parallel event happened with Homeschool Iowa just one month earlier. In mid-September, what Homeschool Iowa Board Members had been dreaming about, praying about, and planning for over a decade finally happened.
---
Your Generous Donations
Allowed Us to Hire:

---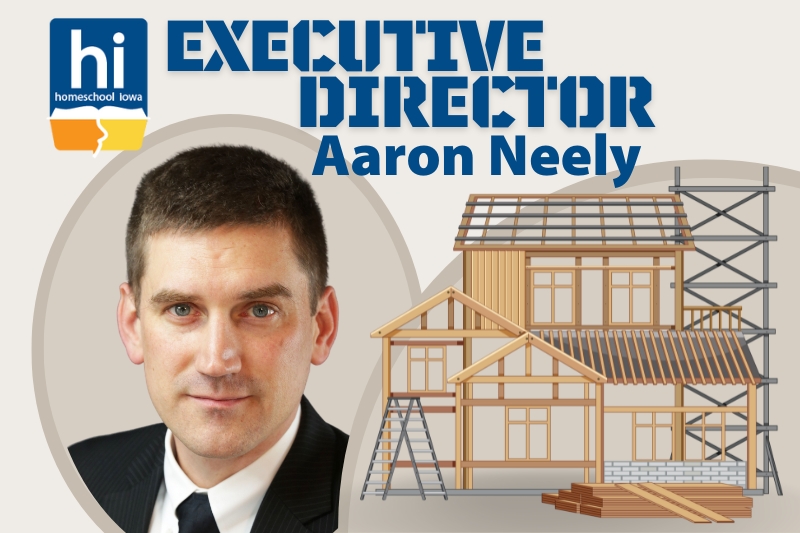 ---
A Key in Building Toward the Future
---
Just as my wife, Elizabeth, and I have employed experienced contractors to help us build our house, Homeschool Iowa has secured a skillful Executive Director, Aaron Neely.
Your dedicated giving
allowed us to lay the financial foundation,
and God supplied a talented homeschool father to fill the role.
Other state homeschool organization leaders have told us that hiring an Executive Director was the top factor in improving their operations.
Aaron is already demonstrating his ability to provide targeted focus and direction for our amazing volunteer team.
He also supplies a unifying and efficient management approach to our Homeschool Iowa efforts. We're thrilled with the results!
---
Your Faithful Support
Has Brought Us to This Point
---
Generous donors, like you, have partnered with us to help Homeschool Iowa as we have been building toward the future.
LAST YEAR:
You helped us
establish initial funding for an Executive Director.
TWO YEARS AGO:
You enabled us
to meet the needs of the massive influx of homeschoolers due to the pandemic.
THREE YEARS AGO:
You gave us 
the starting funds to hire a part-time Lobbyist, Bill Gustoff.
---
Your Dedicated Gifts
Preserved & Expanded Freedoms
---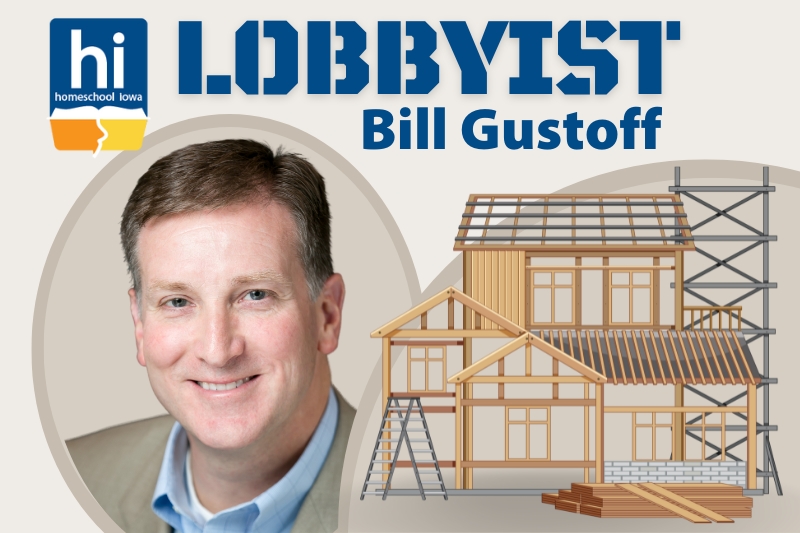 ---
Vital in Building Toward the Future
---
Bill and our Homeschool Iowa Advocacy Team have gained key wins for Iowa homeschooling families.

Here are just a few of their many positive efforts:
protection for Independent Private Instruction (IPI),
expansion of parent-taught driver education,
clean-up of the Private Instruction section of the Iowa Code,
response to the updated, but error-filled CPI Form A, and
access for homeschoolers to tuition and textbook tax credits.
---
---
You can partner with us in building toward the future in the coming year,
THE NEED IS TO CONTINUE FUNDING:
• our Lobbyist,
• our Executive Director, and 
• the new initiatives that he is helping us plan.
Aaron is already working on improving Homeschool Iowa's messaging and increasing our reach to homeschoolers across the state.
He is also initiating our partnership with a new program to gather and publish homeschool student test score research designed to demonstrate the continued success of home education to our legislators and the public.
In addition, Aaron is seeking to improve our support for and connection with support groups and co-ops and to provide simple ways for them to participate in our legislative efforts.
With additional salaried staff and all these new initiatives,
our expenses are on track
to exceed our funding by over $50,000.
We need your help more than ever in building toward the future and funding our Homeschool Iowa mission.
---
---
Will you please partner with us to make this year-end "Building Toward the Future" goal a reality?
Our Matching Donation Program
expands your donation
twice as far.
Your gift of $50, $500, $1000, or even $5000 will be doubled by a matching gift from one of the individuals or businesses committed toward investing in this homeschool vision.
---
Our Goal Is to Reach $50,000
---
Partner with us in this exciting new chapter of growth
in the Homeschool Iowa movement!
---
---
Be a Part of Building
Toward the Future!
---
Use the secure donation form below to make your contribution for the Building Toward the Future 2022 End-of-Year Giving Campaign.
Or click here to open the donation form in a new tab on your browser.
While our online giving platform is encrypted and safe, you'll find information on this registration form about how to give by check as well.
---
---