---
"Forgive me for bragging a bit here,
but I wanted to share a happy moment for our family."
This was the opening line
in an email we recently received.
The email was from a now-retired homeschooling mom, Kt Cook. And the news it contained was so inspiring that we just have to share it with you. Here it is, in Kt's own words:
---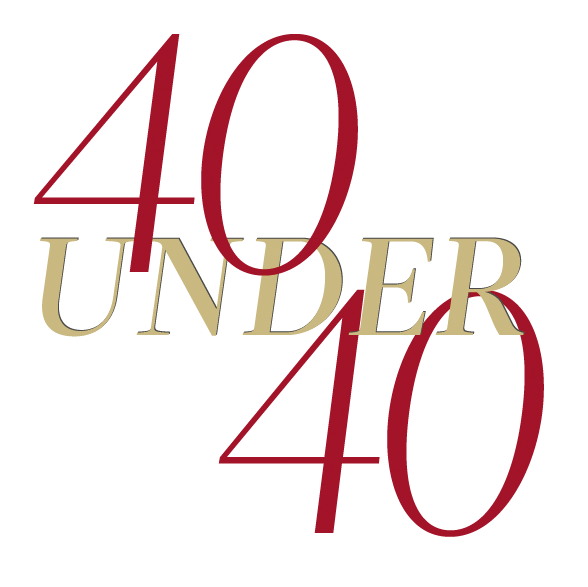 ---
Our daughter, Elizabeth Cook, 
was recently recognized by the St. Louis Business Journal
as one of the 40 Under 40 recipients.
It was a joyful evening as she and 39 others were heralded in St. Louis as business and professional leaders who have achieved success and excelled in their fields before the age of 40
The Business Journal offers this award in major metropolitan areas (Chicago, New York City, Atlanta, etc.) and, each year, amongst millions of people and almost a thousand nominations, they honor only 40 young business persons who have demonstrated leadership, initiative and dedication in pursuing their careers, and who are likely to continue to achieve in the future.
---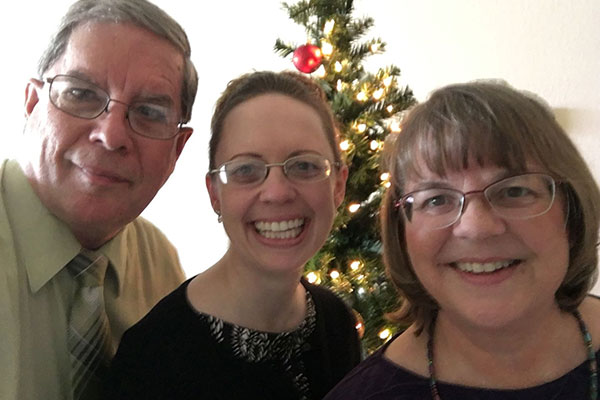 Mike (dad), Elizabeth, and Kt (mom) Cook
---
Our family homeschooled here in Iowa, and Elizabeth earned her multiple college degrees from home, including her doctorate, without financial aid of any kind, and without incurring debt.  
I love to share that she has delivered well over 2,000 babies in her career in four countries (three mission fields).  
Elizabeth now has seven other experienced midwives working under her
in two different programs that she developed and now directs 
at Mercy Hospital in St. Louis, 
including a nationally renowned, one-of-a-kind birth center.  
Three of the midwives actually commute 3-4 hours from Kansas City, Chicago, and Champagne-Urbana because, as they told me, "we saw what she was doing here and HAD to be a part of it."  
Elizabeth is now reaching into the inner city neighborhoods to bring midwifery care to under-served women in the St. Louis area by opening multiple clinics, and she has visions for a unique mobile clinic/ministry bus.   
---
Dr. Elizabeth Cook DNP, CNM, CPM, WHNP, MS, BA, RN
---
As you can imagine, we are incredibly proud of Elizabeth.  
We are proud of her diligence, but mostly of her way of honoring God by serving others.
When interviewed for the Business Journal article,
she explained that her faith is what drives her. 
And though the article didn't mention much of it,
she sought to give the glory to God for what He has allowed in her life.  
When asked who she considered to be a hero, she chose the missionary, Helen Roseveare.  
Elizabeth is continually breaking through barriers and making national strides in a profession that constantly demands that she and her colleagues prove themselves.  (Many doctors and hospitals look down upon midwives).
Even for that, God prepared Elizabeth through the years she was homeschooled during a period when that educational choice was viewed skeptically by most of society.  
It hasn't been easy working over 100 hours per week for years under constant scrutiny, but God has blessed the work of her hands, and we couldn't be more thrilled or thankful.  
---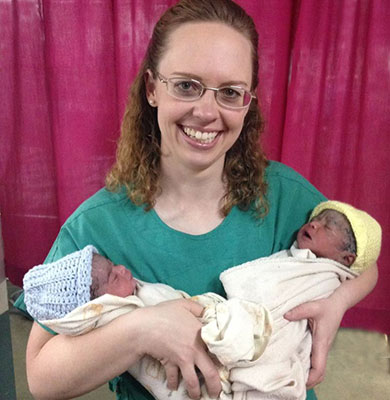 Dr. Elizabeth Cook at a mission hospital in Bangladesh
---
I have so much more to say as I reflect back on our journey, but I'll spare you.  
I can't even begin to count the number of daily, tear-soaked prayers that I've offered up for our sometimes spirit-crushing struggles, but I don't regret a single one. 
Like every one of you,
I have found the trials that drive us to our knees
have been the gifts that lead us to
God's sweetest blessings in our lives.  

Given that the roots of this story hearten back to the first early years when homeschooling had just become legal in Iowa and was viewed with suspicion and contempt, and that many of the older homeschool families in this area walked alongside us in that season, I'm hoping that this is a blessing and encouragement to those who paved the trail with us, as well as to you who are still finding your way in this journey to educate your children to live for God and not to be conformed to this world.  
He can, and will, use our meager, imperfect efforts to His glory if we obey His word and follow His leading in our lives, even when it's not down the well-trodden paths.  
Our homeschooling journeys may not always lead to earthly awards, but the crowns that await us in Heaven, that we may place at Jesus' precious feet, will be worth it all. 

God bless each of you!
Kt Cook 
---
---