Nearly 1300 homeschooling attendees experienced an inspiring dose of encouragement and inspiration at the 2019 Homeschool Iowa Conference on June 6-8 at Valley Church and Community Center in West Des Moines.
We were blessed to see a 9% increase in registered adult attendance!
---
"I am SO thankful we were able to attend!
It was a very encouraging, refreshing time
and definitely a highlight in our year."
~ 2019 Conference Attendee
---
Check out these conference highlights!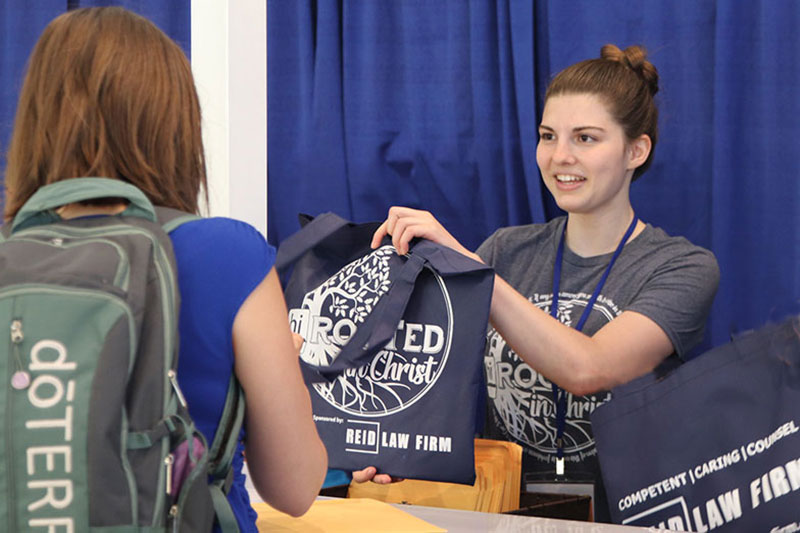 Our friendly registration team made check-in quick and easy.
---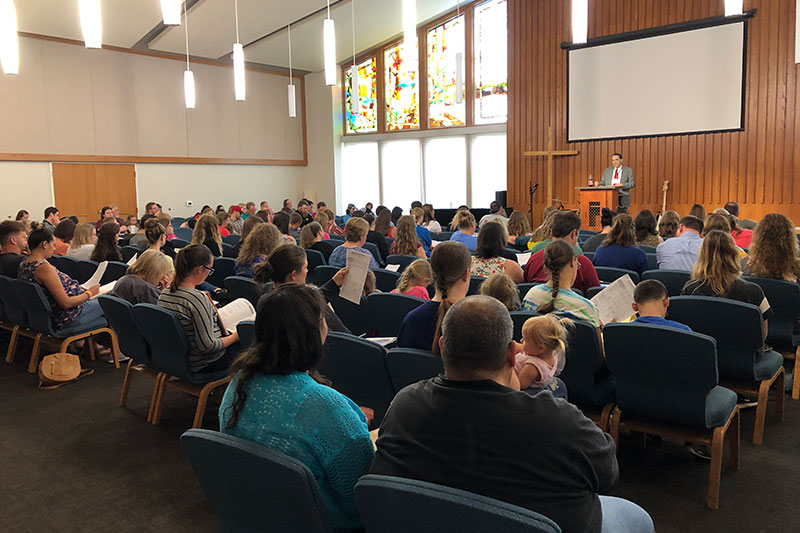 Our Thursday afternoon mini-conferences provided sessions on beginning homeschooling and teaching children with special needs.
---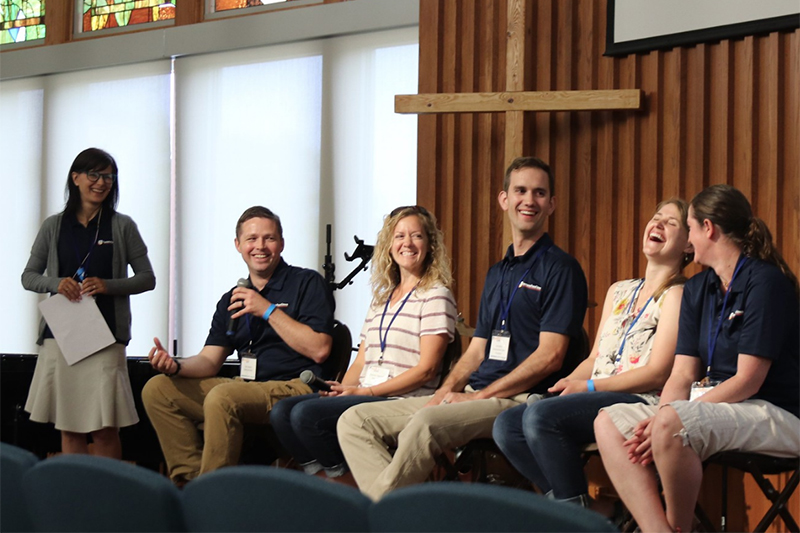 We're not sure who enjoyed the Homeschool Graduate Panel presentation more – the attendees or the panel members.
---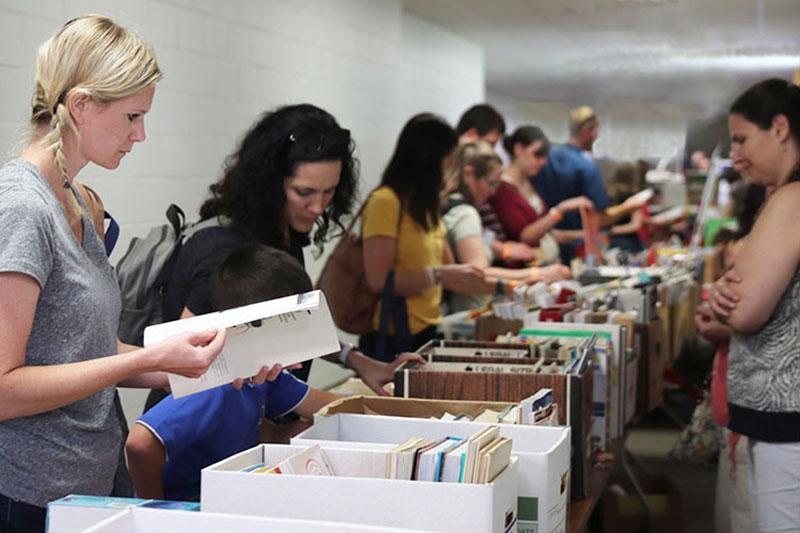 The Used Curriculum Sale and Small Business Expo attracted lots of exhibitors and shoppers on Thursday afternoon. 
---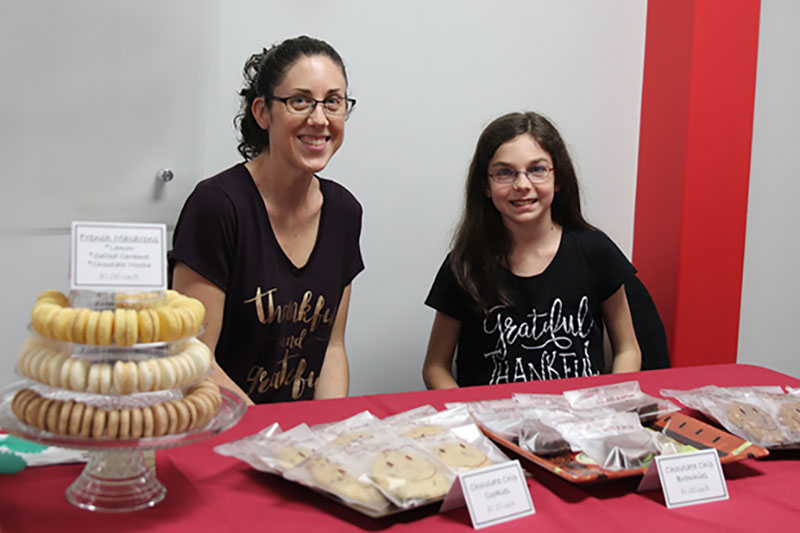 Here's our youngest Small Business Expo participant and her supportive mom! This young lady offered delicious delicacies at her table display.
---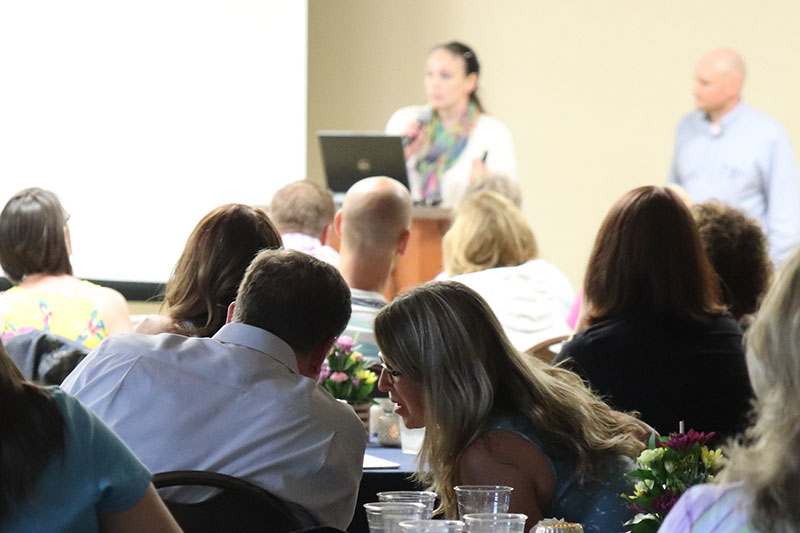 Over 120 attendees enjoyed our first-ever Thursday evening Couples' Dinner with a sumptuous meal and an inspiring message from Israel and Brook Wayne.
---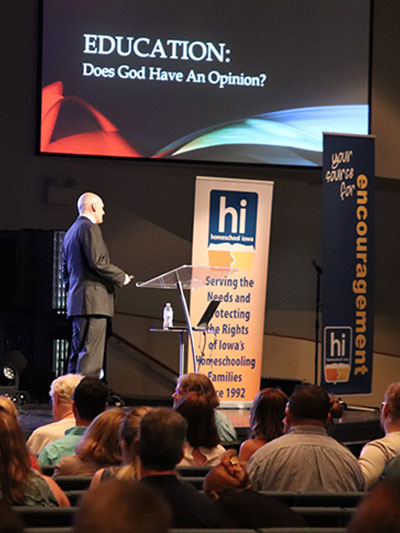 Our keynote speakers were outstanding this year.
Israel Wayne delivered impactful messages to our attendees.
---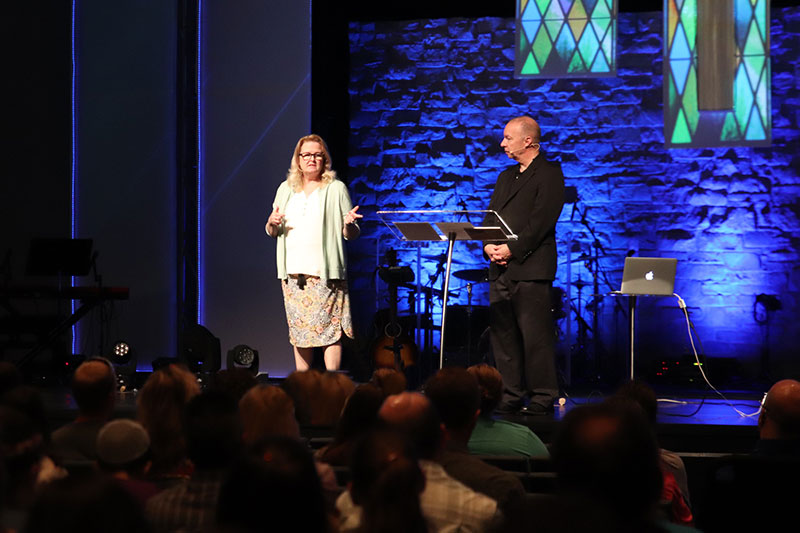 Steve and Megan Scheibner were especially effective, both individually and as team presenters.
---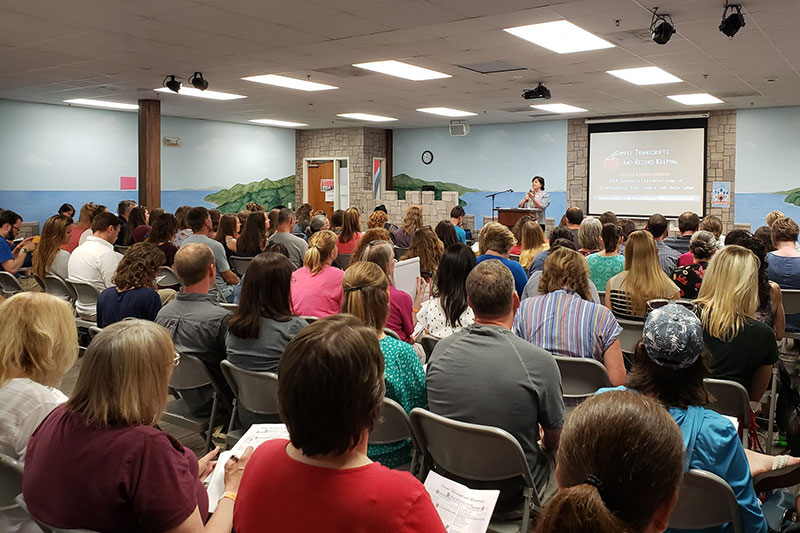 Workshop presenters Cheri Frame, Cindy West, Connie Albers, Nancy Bjorkman, Scott Woodruff, Krisa Winn, Jan Bloom, and Dennis Gundersen shared a wealth of helpful information and resources.
---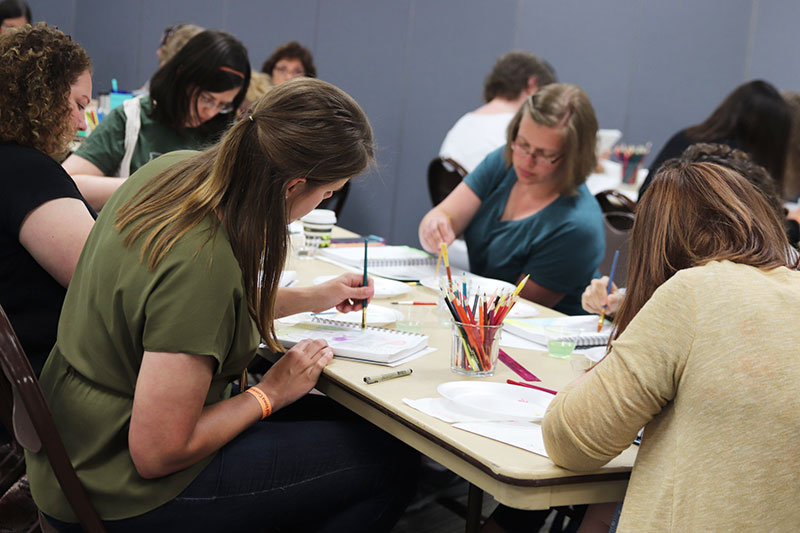 Also new this year were our Make & Take workshops. Participants enjoyed hands-on learning experiences and departed with items they had created in the workshops.
---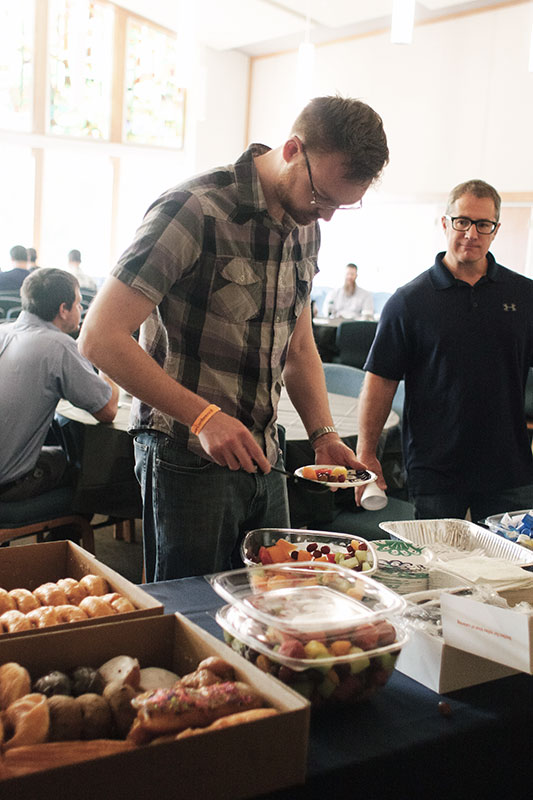 About 50 homeschooling dads enjoyed the Saturday morning "Dads & Donuts" breakfast with a presentation by Steve Scheibner.
---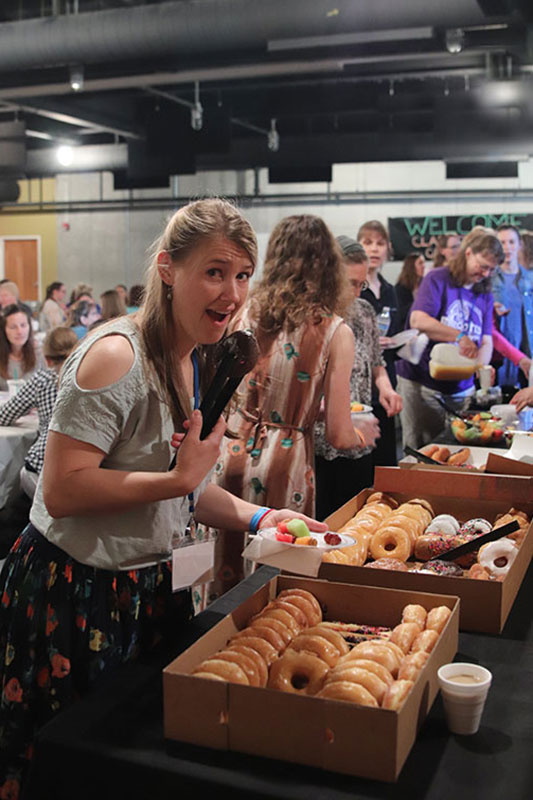 Moms gathered for breakfast at the conference, too: 115 of them! And even though it was called "Moms & Muffins," we see they had donuts (like the dads), followed by some inspiring remarks by Megan Scheibner.
---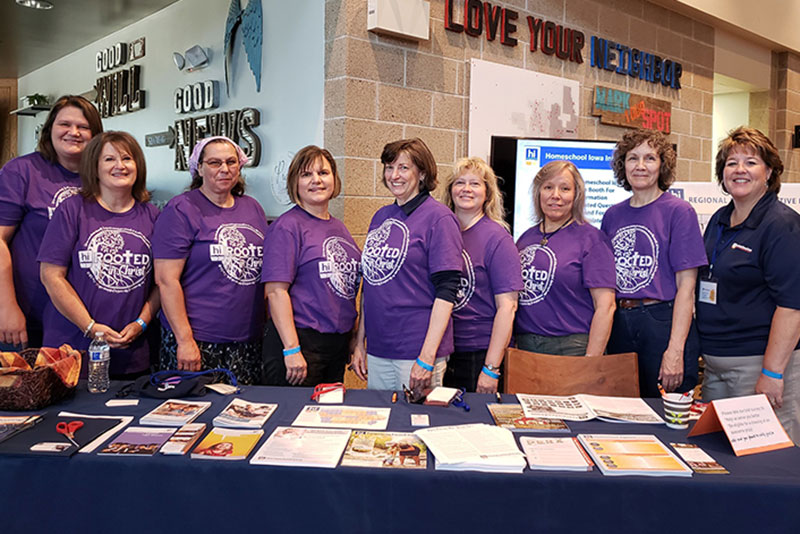 Our Homeschool Iowa Regional Representatives (sporting their snazzy purple shirts) were on hand to chat with attendees at their busy booth in the church foyer.
---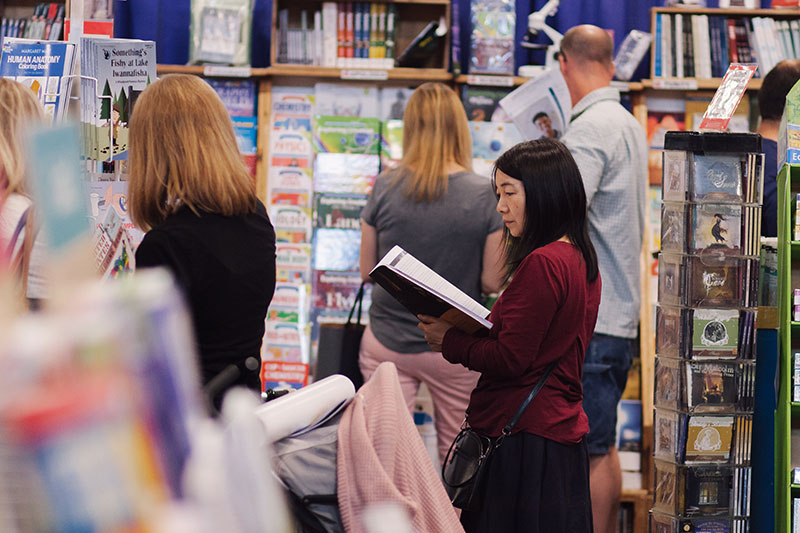 Attendees enjoyed the featured exhibit hall sessions, which offered concentrated time to browse and shop.
---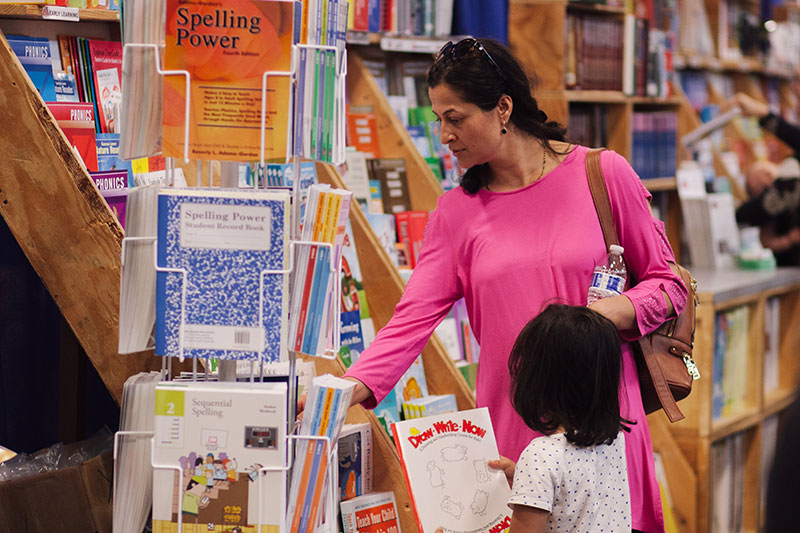 Our exhibitors displayed a wide variety of resources and services for homeschooling families.
---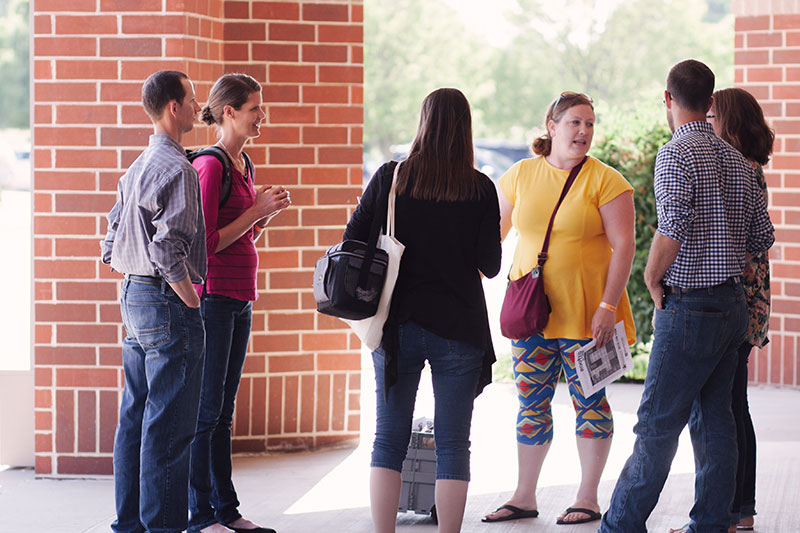 The between-session breaks offered opportunities to enjoy some fellowship.
---
We couldn't produce our conferences without our amazing volunteers.
Thank you to all who helped to make this year's conference a success!
---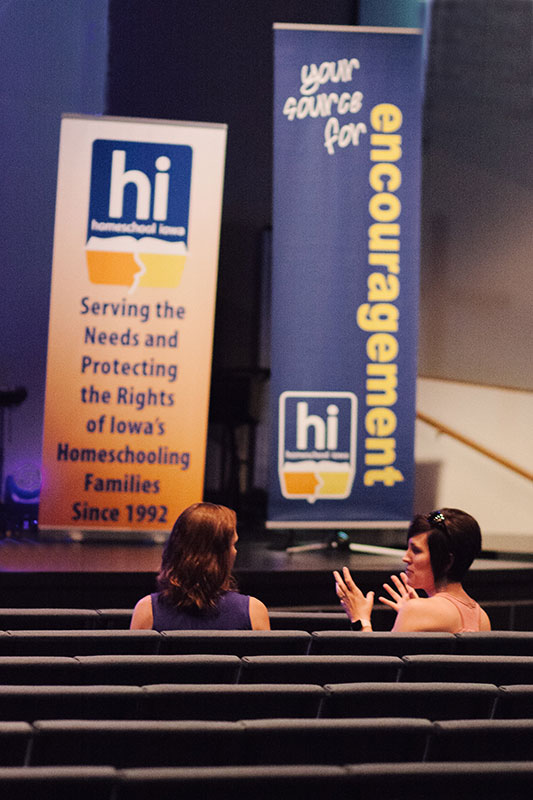 Yes, another conference has come and gone.
We pray that it had a positive impact on you –
providing encouragement and inspiration for your homeschooling efforts!
---
"I came overwhelmed with our school year,
and I left feeling refreshed for our next school year,
with helpful tools
and excellent reminders of what is important
and why I am doing this."

~ 2019 Conference Attendee
MARK YOUR CALENDAR NOW
& MAKE PLANS TO ATTEND
NEXT YEAR'S CONFERENCE!