INFORMATION FOR 2020 HOMESCHOOL IOWA CONFERENCE EXHIBITORS
---
The Homeschool Iowa Conference Exhibit Hall will be held June 11-13, 2020, at the Valley Community Center in West Des Moines.
We are grateful for businesses that participate as exhibitors to provide Iowa homeschool families with a wide array of quality curriculum and resources. We pray that the weekend is a success as you share information with our attendees about what you have to offer – and, for those who are selling product, we hope you have great sales!
We've put together this website page to provide the detailed information at a glance for this year's registered exhibitors. Some portions are still under construction. This page will be updated regularly as new information becomes available. We will also link to this page in each email update we send out to registered exhibitors so the info is fast and easy for you to find.
EXHIBITOR PACKET & APPLICATION
COMING SOON!
MORE EXHIBIT HALL DETAILS
2019 Conference Exhibitor Map & Exhibitors List
---
Check out our exhibit hall map for a peek at what awaits your shopping pleasures!
Click on the map to download a copy.
The 3-letter codes are abbreviated forms of each exhibitors' company name.
Below, you'll find a list of our 2019 Conference exhibitors. 
Click the exhibitor company names to view their websites.
Potential exhibitors, hurry to add your name to the list! 
---
Exhibitor Registratoin
For complete details, please check the Exhibitor Information Packet, coming soon.
PLEASE NOTE: Applications from homeschool curriculum and resource providers will be given priority. Homeschool Iowa reserves the right to decline any application that does not fit the Homeschool Iowa mission, vision, philosophy, and purpose for this event without further explanation.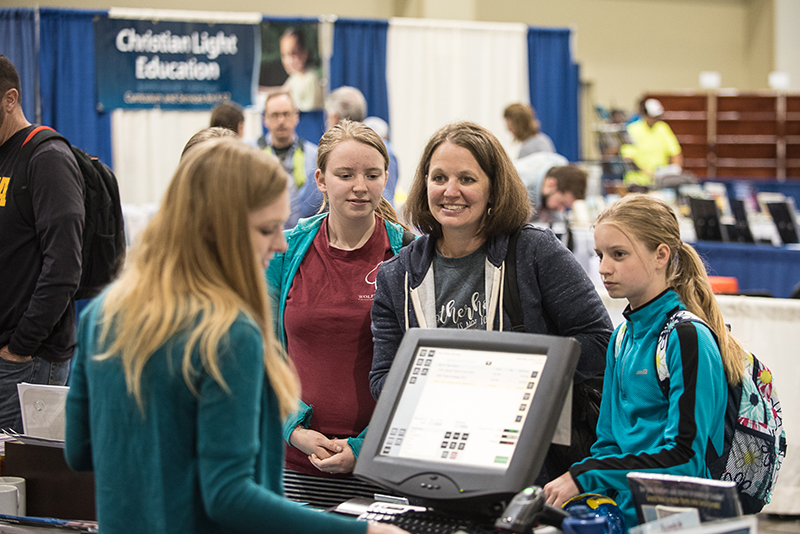 ---
OUR ATTENDEES LOVE OUR EXHIBIT HALL!
And we'd love to have you participate in our 2020 conference as an exhibitor.
We work hard to promote our exhibitors. Each approved business is listed (with website link) on our website Exhibit Hall page.
We also use our social media to increase excitement about our exhibitors. For example, in 2019, we posted short video interviews with exhibitors on our Facebook page.
Our goal is to provide a beneficial shopping experience for our attendees, and a successful means to reach and market to homeschoolers for our exhibitors.
BE SURE TO CHECK OUT OUR ADVERTISING & SPONSORSHIP OPPORTUNITIES IN OUR EXHIBITOR INFORMATION PACKET!